Description
Roadhouse USA:
2023 Martin SC13E Acoustic Electric Guitar W/Case-MINT!
Mint, as new condition.
Phenomenal little guitar that sounds HUGE for its size.
This one is set up and plays superbly.
Great little couch guitar that can also hold its own at your gigs.
Comes as pictured with original case and paperwork.
Info:
Looking for a high-performance acoustic-electric guitar? The Martin Road Series SC-13E delivers the goods, eliminating the limitations of the conventional cutaway acoustic. This game-changing A/E exhibits a gorgeous modern acoustic sound — direct, punchy, and dynamic — with incredible volume and projection. Yet, its offset S-shaped body, low-profile neck, heel-less design, and low-action fingerboard ensure comfort and playability that exceed just about every comparable instrument out there. The SC-13E is incredibly versatile — it sounds great in the studio, in the living room, and thanks to onboard Fishman MX-T electronics, it's a world-class performer onstage. You'll love the look of the SC-13E as well. Its koa fine veneer back and sides, tortoise-pattern pickguard, celestial blue dot fingerboard inlay, and aperture-design rosette are guaranteed to turn heads. Playability, comfort, versatility — the Road Series SC-13E has all that and more. It's the next stage of acoustic guitar evolution.
Removes the limitations of the conventional cutaway acoustic
Playing the Road Series SC-13E is a unique, yet comfortably familiar experience. Its offset S-shaped body fits you like a glove, while providing balanced output and effective feedback rejection. Its sloped bridge stays out of your hand's way, whether you're strumming frenetically or fingerpicking delicately. Its low-profile velocity neck shape allows for helical hand rotation to ensure that every hand position feels relaxed and natural. Its 13-fret design blends the tone of a long-scale instrument with the playability of a short-scale, and its heel-less Sure Align neck system gives you unfettered access to the SC-13E's entire fretboard. And its low action, while maintaining the feel of an acoustic guitar, is sure to make electric players feel right at home. No matter what you're playing, cowboy chords, jazz shapes, or rapid-fire leads, the SC-13E makes it effortless.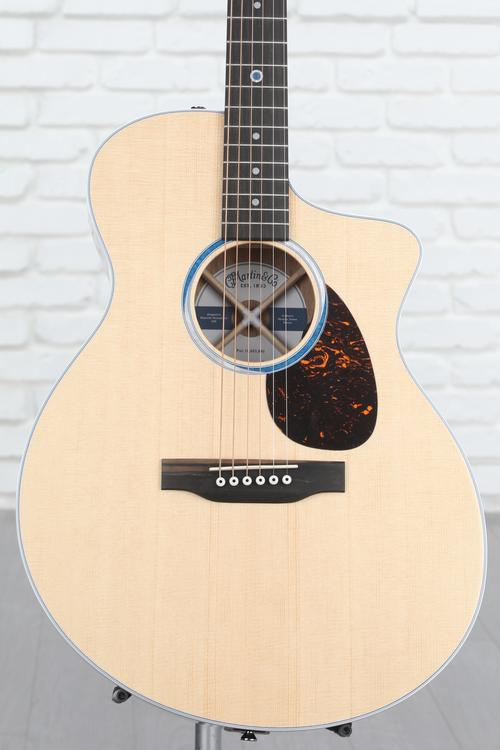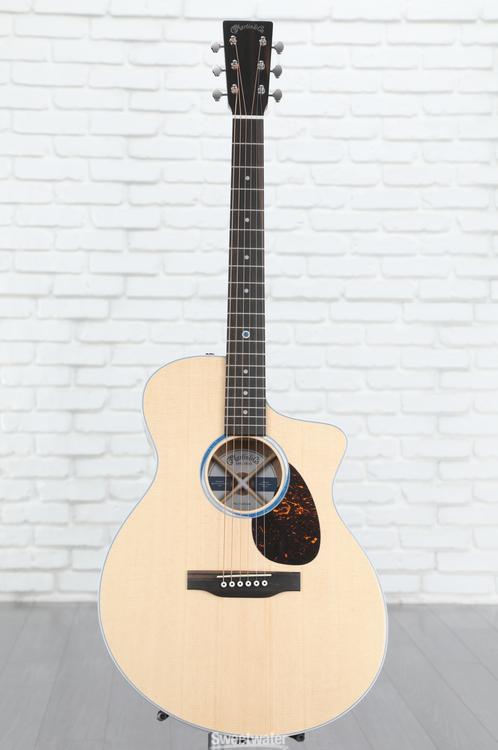 An acoustic guitar through and through
There have been numerous attempts at creating a comfortable acoustic that would appeal to electric guitar players. Unfortunately, the results are often less than mind-blowing — typically a super-thin acoustic instrument with equally thin tone. The Martin Road Series SC-13E eschews this type of thinking. While its comfortable neck and low action ensure easy playability, the SC-13E is an acoustic guitar through and through, meticulously crafted by a company with a 180-year history of building legendary acoustic instruments. Its spruce top yields the direct, punchy sound and broad dynamic range that the tonewood is known for, while its fine-tuned body with tailored X-bracing produces near-cannon-like levels of volume and projection. The SC-13E's natural tone is stellar — at Sweetwater, we thought nothing of miking it up in the studio.
Fishman MX-T system with built-in tuner
When you want to hit the stage with the Road Series SC-13E, it'll be ready, thanks to its Fishman MX-T electronics. The Fishman MX-T system is an update of the popular Matrix series and features a cool, line-of-sight tuner located in the soundhole. This built-in tuner auto-mutes the audio output so you can tune any time. Its convenient placement in the soundhole allows you a full view without straining to see its LCD screen. All you have to do is look down. The SC-13E is a stellar A/E — it has everything it needs to be your number one in the studio, onstage, and anywhere else where top-shelf playability, comfort, and versatility are a concern.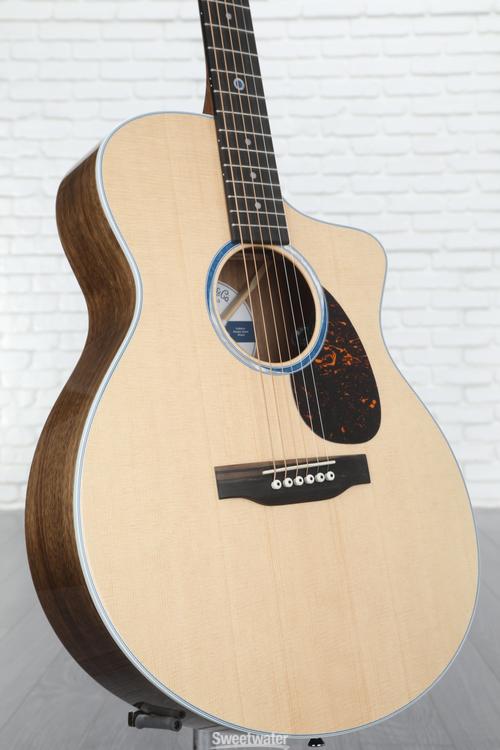 Martin Road Series SC-13E Acoustic-electric Guitar Features:
6-string acoustic-electric guitar with amazing playability, comfort, and versatility
Offset S-shaped body fits you like a glove, while providing balanced output and effective feedback rejection
Sloped bridge stays out of your hand's way, whether you're strumming or fingerpicking
Low-profile velocity neck shape allows for helical hand rotation to ensure relaxed and natural feel
13-fret design blends the tone of a long-scale instrument with the playability of a short-scale
Heel-less Sure Align neck system gives you unfettered access to the entire fretboard
Low action maintains the feel of an acoustic guitar, while providing effortless playability
Spruce top yields the direct, punchy sound and broad dynamic range that the tonewood is known for
Fine-tuned body with tailored X-bracing produces near-cannon-like levels of volume and projection
Onboard Fishman MX-T electronics deliver stellar amplified acoustic tone
Line-of-sight tuner located in the soundhole makes tuning a breeze
Tuner auto-mutes audio output so you can tune any time
Eye-grabbing tortoise-pattern pickguard, mother-of-pearl celestial blue dot fingerboard inlay, and aperture-design rosette