Description
This Gibson Les Paul Slash Signature Anaconda Burst SIGNED Edition is brand new.
#14 of only 50 signed guitars, this one was opened up right out of the original shipping box (included) and put away as a collector. Never played. Never hung on a wall. Perfect guitar.
Awesome flame top, killer neck. Comes complete with absolutely every tag and bit of case candy.
You won't find another one of these signed editions around so get it while you can!
Limited-edition Slash Anaconda Burst Les Paul
If Gibson's Custom Slash Anaconda Burst Les Paul is a bit out of your price range, you're in luck. This limited-edition Les Paul features the same exclusive green finish as the Custom version, along with a gorgeous AA figured maple top and a plethora of Slash's personal touches, including a custom neck taper, signature Seymour Duncan pickups, and Sprague Orange Drop capacitors. This unforgettable guitar belongs in your collection, but don't delay — the Slash Anaconda Burst Les Paul is limited to 50 individually signed and numbered guitars.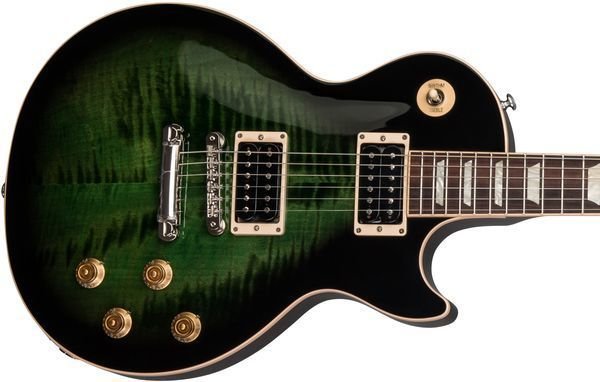 Classic construction with Slash's personal touches
Gibson based the Slash Anaconda Burst on classic Les Paul designs, including a non-weight-relieved mahogany body, a AA figured maple top, and a nitrocellulose lacquer finish, along with Slash's requested modifications. The electronics consist of a handwired harness with Sprague Orange Drop capacitors, 500K CTS volume and tone pots, and a Switchcraft toggle switch. Guitarists here at Sweetwater are genuine Les Paul connoisseurs, and they love the sound, look, and feel of this guitar.
Twin Seymour Duncan humbuckers deliver scorching rock tones
If you covet the sustain, crunch, and midrange that are Slash's trademark, it all starts with the pickups. The signature Seymour Duncan humbuckers in the Slash Anaconda Burst Les Paul exhibit a warm, moderate output that's perfect for everything from classic rock to blues to jazz. These pickups are wound with just the right amount of boosted output to make your guitar sing. And like the originals in Slash's legendary AFD Derrig Les Paul, these Alnico II Pro pickups feature a nickel silver bottom plate with long mounting legs, single-conductor braided lead wire, maple spacer, paper tape, and wax potting.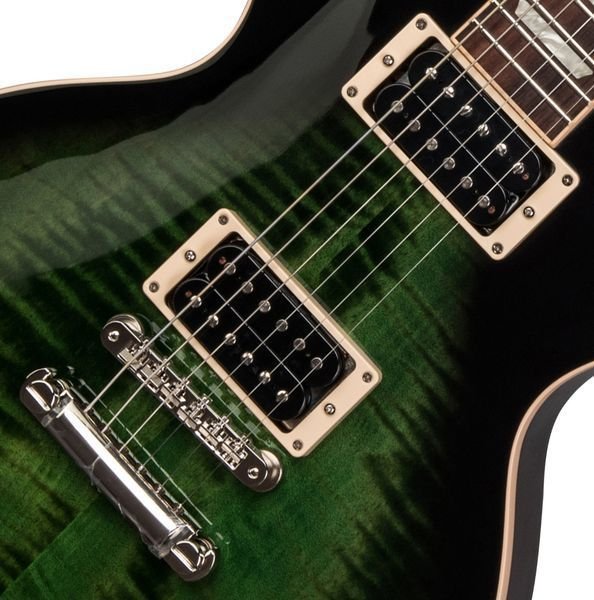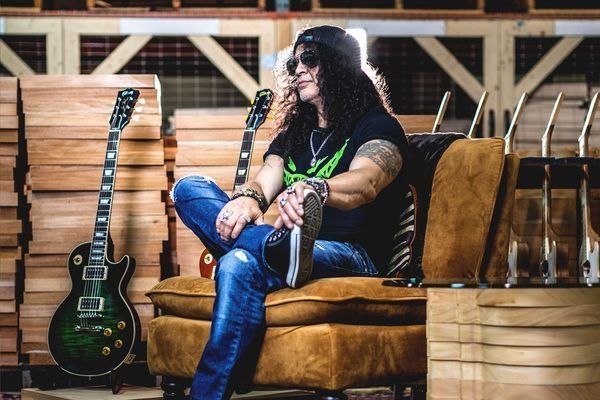 Slash — a brief biography
Known primarily for his work with the hard rock band Guns N' Roses during the late 1980s, Slash has garnered a well-earned reputation as one of rock's preeminent guitarists. Named the runner-up on Time magazine's list of "The 10 Best Electric Guitar Players" in 2009, and No. 65 on Rolling Stone magazine's list of "The 100 Greatest Guitarists of All Time" in 2011, Slash continues to receive accolades from critics and music fans alike. Aside from his enormous success with Guns N' Roses, Slash has also achieved acclaim with his side project, Slash's Snakepit, and as a member of the supergroup Velvet Revolver. He's recorded three solo albums, two with his band, Myles Kennedy and the Conspirators. In 2012, Slash received one of rock music's highest honors, when he was inducted into the Rock and Roll Hall of Fame alongside his Guns N' Roses bandmates.
Gibson Slash Anaconda Burst Les Paul Features:
Limited-edition Les Paul with exclusive Anaconda Burst finish
Supremely eye-catching AA figured maple top
Custom Slash neck taper for unbelievable playability
Signature Seymour Duncan pickups deliver Slash's trademark sustain, crunch, and midrange
Historic non-weight-relieved mahogany body with nitrocellulose lacquer finish
Handwired harness with Sprague Orange Drop capacitors, 500K CTS pots, and a Switchcraft toggle switch
Limited to 50 guitars, each individually signed and numbered
Slash Snakeskin hardshell case is included