Description
Roadhouse USA location:
Soldano SLO-30 Super Lead Overdrive 30-watt Tube Head in purple.
I happened to get one of these early before the custom tolex amps are really out. You won't find another in purple without a wait.
Amp is brand new and will ship in original box with paperwork etc. No offers on this one.
Ships for free in the US(lower 48 only)
A 30-watt Version of Soldano's Famed SLO-100
Soldano's SLO-30 Super Lead Overdrive packs the fabled SLO-100's tone and features into a studio-friendly, 30-watt package. Far more than a mere high-gain tube amplifier head (although it excels at that), this fire-breather's cascading-gain preamp design churns out a thick, juicy sizzle that lends itself to everything from whiskey-soaked electric blues to red-hot jazz fusion to tooth-rattling metal. What's more, the Super Lead Overdrive's dynamic sensitivity is on a par with any boutique-voiced amp that dares to challenge it. There's plenty of tone-shaping onboard this 30-watt, 2-channel amp head, plus independent preamp gain and master volume controls for achieving harmonic saturation at bedroom-friendly sound levels. You also get a tube-buffered effects loop for your pedals, while a variable slave output enables effortless DI-ing. Beyond that, a rotary impedance selector allows you to pair the SLO-30 with a multitude of speaker cabinets. Soldano's Super Lead Overdrive is built from top-shelf, military-grade components for the ultimate in durability. Countless world-class guitarists swear by the Super Lead Overdrive. Now, thanks to the SLO-30, you can experience that sound for yourself. And you can do it without violating noise ordinances.
Cascading-gain preamp design equals rich, harmonically saturated gain
The Super Lead Overdrive is renowned for its rich, harmonically saturated gain and super-responsive touch dynamics, and it was everywhere in the late 1980s and early 1990s — Eddie Van Halen on For Unlawful Carnal Knowledge, Journeyman-era Eric Clapton, and just about everything Mark Knopfler has done since 1987 are but a few examples. In fact, a complete list of SLO users reads like a who's who of world-famous guitarists — Lou Reed, Vivian Campbell, George Lynch, Gary Moore, Joe Satriani, Steve Vai, and a number of guitarists here at Sweetwater — the list goes on and on. And how does the SLO achieve this glorious sound? It all starts with four cascading stages of 12AX7-driven preamp gain. Your signal then travels through a tone stack that's derived from a modified American-style amp. Finally, a 30-watt, 6L6-fueled output section delivers classic SLO tone at levels that won't peel paint. If you've never experienced Soldano's Super Lead Overdrive, plug in — you'll never look back!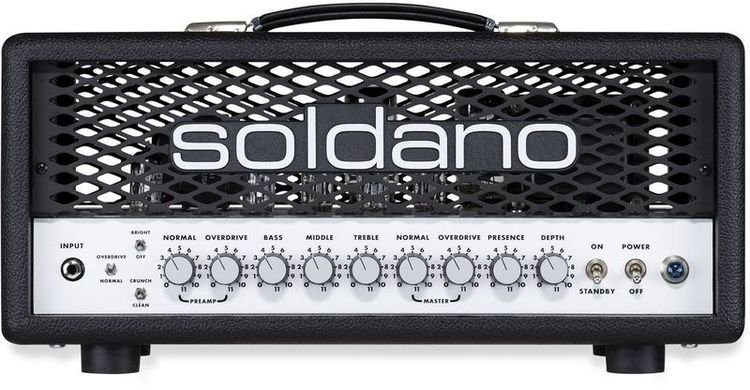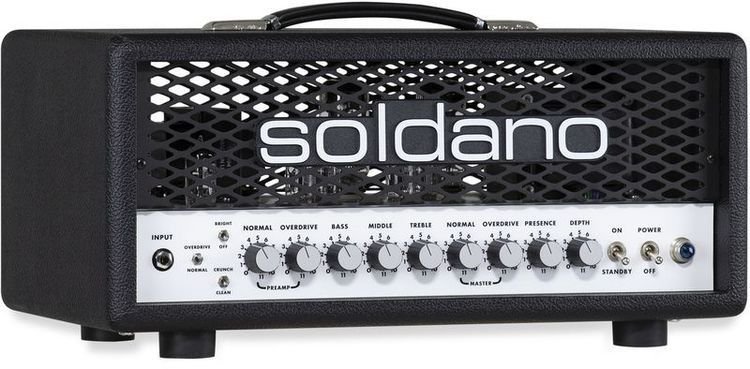 2 footswitchable channels cover rock, metal, contemporary blues, and more
No matter what kind of tone you're trying to dial in — rock, metal, contemporary blues — the Soldano SLO-30 can achieve it. This tube amplifier head's Normal channel yields crystalline cleans that can be honed to a razor's edge with the channel's Bright switch or drug through the dirt with its Crunch switch. The SLO-30's Overdrive channel delivers a super-thick sound that's framed by a scorching, high-octane sizzle. Back off the gain and you'll experience an inspiring blues-tinged sound with unbelievable touch sensitivity. Crank up the gain and you'll unleash absolute brutality. Both channels share Bass, Middle, Treble, Presence, and Depth controls that supply loads of tone-shaping power. And a footswitch is provided for effortless, noise-free switching between channels.
Pro-level features make integration with the rest of your guitar rig a breeze
The SLO-30 is jam-packed with the same pro-level features as its bigger brother. Its tube-buffered effects loop enables you to use it with your favorite effects pedals. Its slave control is an adjustable low-level output taken from the amp's output transformer that enables you to route your signal straight to a PA or recording rig. Pro tip: this isn't a load box — make sure you have a speaker or dummy load plugged into the amp while you're DI-ing! The SLO-30 also boasts a rotary Impedance selector switch that accommodates 4-, 8-, or 16-ohm speaker cabinets.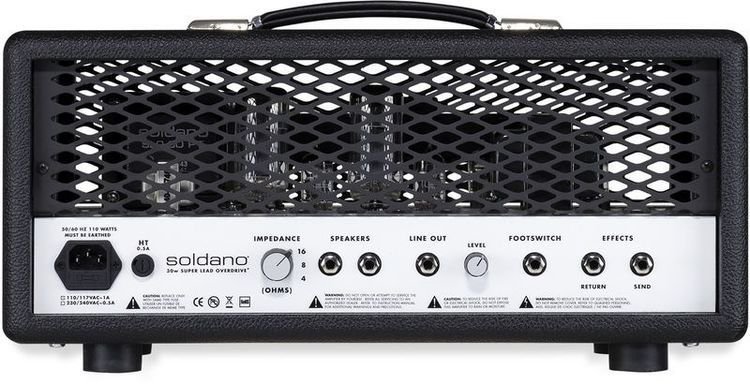 Soldano SLO-30 Super Lead Overdrive Amp Head Features:
30W, 2-channel all-tube guitar amplifier head with cascading-gain preamp design
Packs the same tone and features at the fabled SLO-100 into a studio-friendly 30W package
Versatile tone lends itself equally well to rock, metal, and contemporary blues
Dynamic sensitivity hangs right in there with low-gain, boutique-voiced amplifiers
Normal channel yields crystalline cleans that can be honed with Bright and Crunch switches
Overdrive channel delivers a super-thick sound that's framed by a scorching, high-octane sizzle
Independent preamp gain and master volume controls for achieving harmonically saturated tones at manageable levels
Both channels share Bass, Middle, Treble, Presence, and Depth controls that supply loads of tone-shaping power
Included footswitch provides effortless, noise-free switching between channels
Tube-buffered effects loop for integrating your favorite effects pedals
Variable slave output enables effortless DI-ing
Rotary Impedance selector switch that accommodates 4-, 8-, or 16-ohm speaker cabinets
Built from top-shelf, military-grade components for the ultimate in durability