Roadhouse USA location:
Framus Dragon Tube Guitar Amp hand signed by Parkway Drive.
Amp is in very good condition, missing the Framus logo, which should be fairly easy to replace.
The amp is hand signed on the top (pictured) by all the members of Parkway Drive, but whether this amp was owned by Parkway Drive or not, I don't know.
It functions perfectly and sounds great, comes as pictured with a VoodooMan footswitch made specifically for the amp.
It also has a light kit added (which makes me think it MIGHT have been owned by Parkway Drive) that lights up the tubes in various colors when you turn it on.(see pics) Pretty cool and looks awesome on stage I'm sure:)
The handle on the top needs to be replaced, I may have one that I can install for the new owner.
Info/Review:
The appropriately-named Framus Dragon is indeed a fire-breathing beast. It's a versatile 3-channel boutique amp that can deliver a range of tones, from sparkly cleans, to brutal rhythms, to soaring leads. It definitely has a very organic, punchy sound to it, as well as very nice natural compression, especially when paired with the accompanying cab. I specifically acquired this half-stack for use in heavy rock and metal styles, and its sound is geared very nicely towards this. Like other amps used in these genres, it can be very brutal sounding with its tight low-end, but it's refreshing to hear an amp that can combine the heaviness with an open-sounding and warm tone as well.
I won't talk too much more about the sound, but let you hear a bit for yourself in the video I recorded below. Keep in mind that this was recorded with just the camera microphone, that the file was compressed for online use, and that the amp was played at relatively low volumes (as we know, tube amps thrive with the volume pushed high). Nevertheless, it should give you an idea of some of the tonal characteristics of this half-stack. I will also discuss some of its main features.
I've owned the half stack for over a year now and have used it at a number of gigs and in the studio. Thus far, I've had no reliability issues with it. As a matter of fact, tonewise I've found it to be much more consistent than my previous tube amps, which could sound one way one day and then sound different the next with the same exact settings and axe.
As far as sturdiness goes, everything has held up well though I have had to pay some attention to the casters (wheels) before. The cool thing about the casters is that they can just be pulled out so you could set the cab flat on the ground. The downside is that the mechanism does wear down after some time and the wheels come out easier than you might like them to.
As mentioned in the video, one of the cool and unique features of the head is its MIDI capabilities. It's great for integration into a MIDI controller, where you can combine the channel and master 1/2 swtiching capabilities with the controls of other gear, such as rack effect processors. For example, you could potentially have a setup where with the push of one button you can switch from a clean sound with slight chorus and reverb, to a lead tone with delays. The Framus Dragon's MIDI feature makes such a setup much easier to achieve.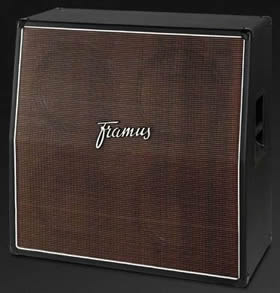 Specs:
A 3-Channel, 100-watt, all-tube amp head. Each of the 3 channels Clean, Crunch and Lead has a 3-band equalizer as well as Gain, Volume and Presence controls. It also comes with an effects loop, an integrated MIDI interface, two switchable Master volumes, a Deep control, and speaker impedance settings of 4, 8 and 16 ohms.
100 watts all-tube amp
Valves: 5x ECC 83 by JJ, 4x EL 34 by Electro Harmonix (selected quartet)
3 channels (Clean, Crunch and Lead)
Gain, Bass, Middle, Treble and Presence controls for each channel
Parallel effects loop
Deep control
Master 1 and 2, switchable
Integrated MIDI interface
4, 8 and 16 ohms speaker output impedance, switchable
Weight: 20 kg
Dimensions (W/H/D): 0,72 x 0,28 x 0,26 m
Made in Germany