Roadhouse USA location:
Victory Amplification RK50H Richie Kotzen Signature 50 Watt Amp Head.
Mint condition.
This amp has barely been played and shows no wear at all.
Comes as pictured with all footswitches as well as the manual and original shipping box.
These amps are KILLER sounding in a simple, small package. An excellent boutique amp for the money.
Info:
If you are looking for a single-channel, 50-watt amp head that can positively take you from the basement to the stage and rock all points in between, then the Victory RK50H Richie Kotzen Signature Compact Series Head is the treasure you seek. The RK50H was born out of a meticulous collaboration between Victory's head designer, Martin Kidd, and Kotzen over several years. The result of this labor of love is a boutique-style amp head that's positively packed top to bottom with impeccable tone and features that will fit an array of styles. From blues to rock to ambient to metal, the RK50H can take you there with the kind of sonic aplomb that will have you dropping superlatives left and right — something we've been doing here at Sweetwater since this amazing amp head arrived!
Simplicity yields complex tone
Richie had test-driven other Victory amps in the past and fell in love with the simplicity of their design and their mind-blowing tone. For the RK50H, he wanted even more simplicity by way of a single channel that could roam the territory between clean and crunch and gain via the volume pot of his guitar with ease. With this single channel, you get glassy highs, meaty midrange, and growling lows. You will be blown away by the amount of gain you can add to your tone without getting muddy. There's even a footswitchable valve gain stage that mimics your favorite boost pedal, letting you drop into full-on lead tone with ease. Kotzen also asked for a single tone control, and Martin obliged with a tone pot wired to handle both single-coil and humbucking pickups with ease, letting you dial in fatter, darker tones as well as brighter, cleaner tones.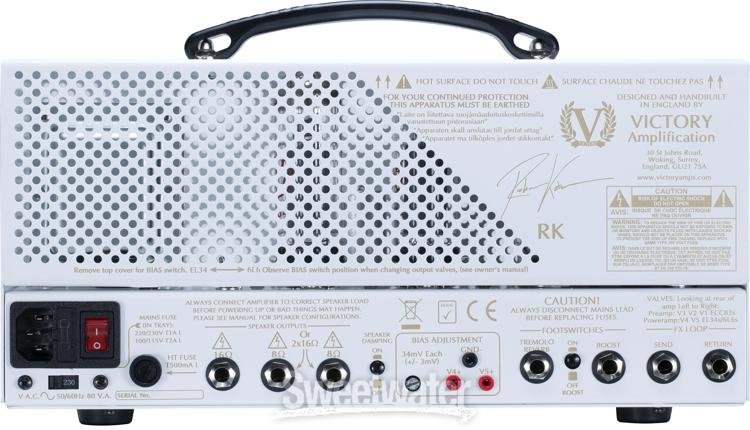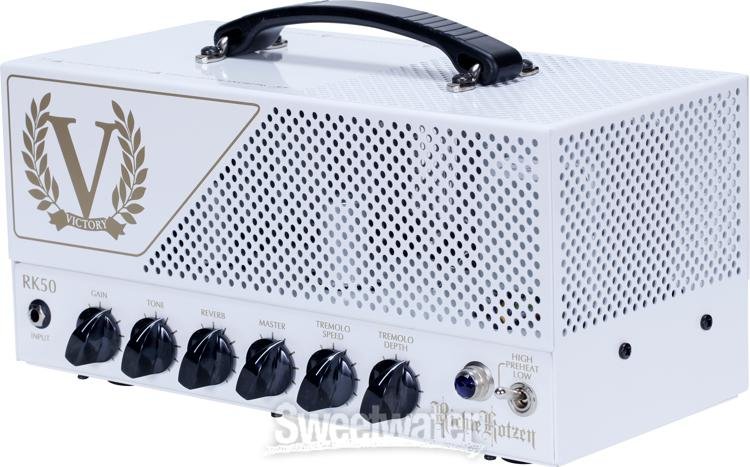 Onboard reverb and tremolo
The versatility of the RK50H goes well beyond gain and tone, offering a vintage-inspired spring reverb that sounds amazing clean or dirty. There's also plenty of tasty tremolo when you need it — both of these are footswitchable. Martin also added a speaker damping feature per Kotzen's desire that pumps up the bass response and the cabinet/speaker resonance, ideal for SRV-style Texas blues. Finally, a series effects loop is on hand when you want to run delay, reverb, or whatever you desire after the preamp section.
Victory Amplification RK50H Richie Kotzen Signature Heritage Series Guitar Amplifier Head Features:
Incredible signature 50-watt amp head with simple design and mind-blowing tone
Boutique-style amp head fits an array of styles — from blues to rock to ambient to metal
Delivers glassy highs, meaty midrange, and growling low end
Single-channel design works beautifully with volume control on guitar
Single tone control handles both single-coil and humbucking pickups with ease, letting you dial in fatter, darker tones as well as brighter, cleaner tones
Footswitchable vintage-inspired spring reverb sounds amazing clean or dirty
Speaker damping feature pumps up the bass response and the cabinet/speaker resonance
Series effects loop is on hand when you want to run delay, reverb, or whatever you desire after the preamp section