Roadhouse USA location:
ESP E-II M-II Neck Thru Urban Camo Guitar W/Case.
Excellent condition, Japan made ESP in the always cool Urban Camo finish.
Guitar has no issues and has barely been played. I would call it near-mint if not mint:)
Comes as pictured with case and trem bar etc. The only thing not included is the back plate which the original owner misplaced after setting it up. If a $6 missing part bothers you, don't buy this guitar.
Great playing guitar that is well set up, this is basically a poor man's Jeff Hanneman for all intents and purposes. These are no longer being produced, so if you want one, here it is!
Specs/info:
Simply put, the ESP E-II M-II Neck Thru is a high-end axe that rocks. Featuring a balanced-sounding alder body, the E-II M-II Neck Thru also has two screaming active EMG pickups that deliver stellar aggressive tones. A 3-piece maple neck with rosewood fingerboard is another highlight on the E-II M-II Neck Thru, providing incredible feel and response and epic sustain. Beyond that, its 25.5″ scale length is ideal for down-tuned styles. A Floyd Rose tremolo completes the package, enabling you to execute twists, bends, and dive-bombs with absolute impunity. If you're searching for a master-crafted rock guitar, the E-II M-II Neck Thru is an all-around winner. Pick one up and see for yourself!
ESP's Mirage body style delivers amazing comfort and tone
When you want to rock, you can count on ESP's Mirage body style for exceptional sustain and tone-packed performance. The E-II M-II Neck Thru's Floyd Rose tremolo enables you to twist, bend, and dive-bomb all you want, and never worry about pulling your tuning out of whack. Its 25.5″ scale length is perfect for down-tuned playing, giving you a powerful foundation for a wide range of contemporary music styles, while its thin "U" neck with a smooth maple fingerboard is instantly playable and responsive.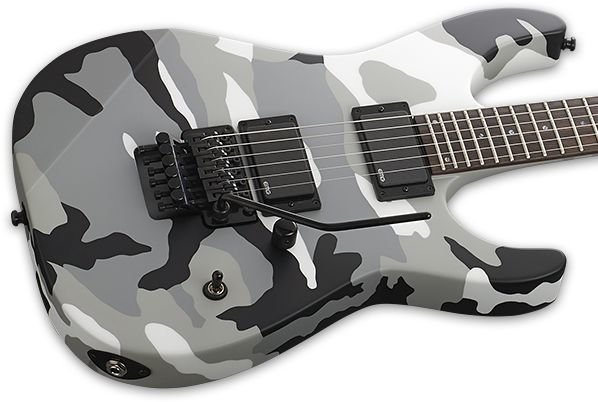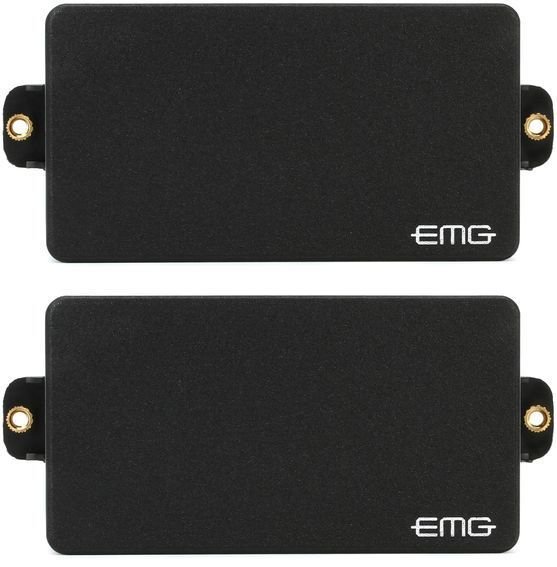 Aggressive active EMG humbuckers
The ESP E-II M-II Neck Thru's twin EMG 81 pickups deliver everything from a fat, thunderous growl to a metallic scream. Loaded with beefy ceramic magnets and close aperture coils, these high-output humbuckers boast unyielding intensity and unparalleled detail, along with incredible high-end cut and fluid sustain. Its bridge pickup ensures that your leads will slice right through the densest of mixes, while its neck pickup pummels everything in your wake. The EMG 81 has become a first-call choice for some of the most respected metal guitarists of all time (including a number of us here at Sweetwater), and you'll love what it does for you.
Top-of-the-line quality from Japanese-made ESP guitars
ESP started as a manufacturer of after-market guitar parts in Japan in the late 1970s. By the mid-80s ESP was making custom guitars for some of the biggest names in rock. An exacting eye toward playability and craftsmanship has made ESP Guitars one of the most visible and prevalent guitar brands in rock and metal. Each E-II M-II Neck Thru guitar is still made in Japan. Their commitment to quality is second to none, and their impressive roster of endorsers proves it. From George Lynch to Ron Wood to Stephen Carpenter, Kirk Hammett, and Alexi Laiho, ESP makes guitars that today's guitar heroes use.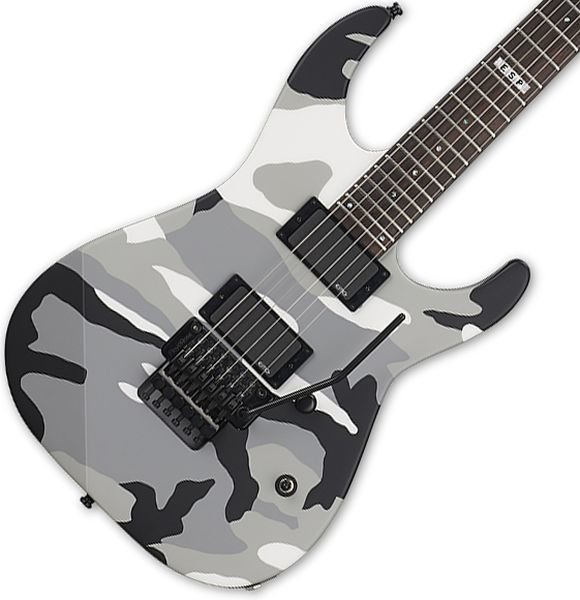 ESP E-II M-II Neck Thru Features:
An exquisite axe built by master luthiers in Japan
Balanced-sounding alder body provides a solid base for your tone
Active EMG 81 humbuckers yield fat, high-output tones
3-piece maple neck with rosewood fingerboard provides incredible feel and response
Fast-feeling extra-thin "U" neck profile
Easy-playing rosewood fingerboard with 24 XJ frets
Rock-solid Floyd Rose tremolo and Gotoh locking tuners keep your tuning on point