Roadhouse USA location:
Ibanez J Custom RG8570Z BRE AAA Flame Top in Black Rutile.
Not much to say about this one. Mint condition.
Comes as pictured with COA, original case, and all the junk that comes with it.
Simply an awesome guitar with a killer neck on it. Much like all of the Ibanez J-Customs, these guitars are extremely well built and attention to detail is superb.
Highly recommended here at Roadhouse Vintage if you like the Ibanez neck profile, this is as good as it gets.
Brimming with Looks, Tone, and Playability
Like all the guitars in Ibanez's high-end J Custom line, the RG8570Z is brimming with looks, tone, and playability. Its beautiful AAA flamed-maple-capped African mahogany body supplies unbelievable resonance and sustain. Its 5-piece neck provides a just-right feel, while a Prestige fret edge treatment infuses its bound Macassar ebony fingerboard with the ultimate in smooth playability. DiMarzio's Tone Zone, True Velvet, and Air Norton pickups push your amp to get crunchy rhythms and hot leads. Beyond that, you can bend, twist, and dive-bomb with impunity, thanks to an Edge-Zero tremolo. The RG8570Z features an eye-grabbing tree of life fingerboard inlay and cosmo black hardware.
Incredibly fast J Custom Super Wizard neck
Ibanez Wizard necks are thin and built for speed, and they enable effortless playability and comfort. The RG8570Z takes that design to the next level with its 5-piece maple/wenge J Custom Super Wizard neck. The just-right feel provided by this neck encourages lightning-fast runs, arpeggios, and hammer-ons. Capping the neck is a 24-fret Macassar ebony fingerboard, loaded with jumbo frets that are perfect for big note bends. Beyond that, the RG8570Z's frets have been given Ibanez's Prestige edge treatment, delivering the ultimate in smooth playability.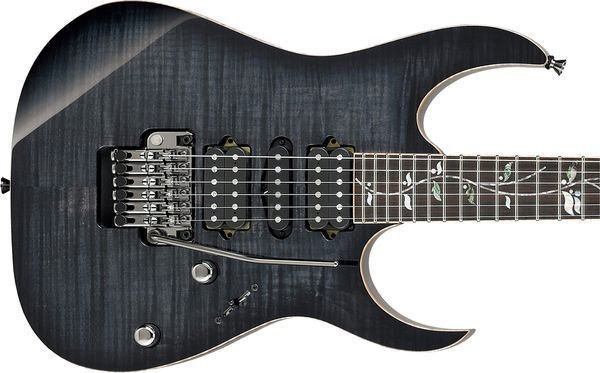 Three DiMarzio pickups cover an expansive sonic range
There's no denying the massive range of tone that you can get out of the Ibanez RG8570Z's trio of DiMarzio pickups. First, there's the DiMarzio Tone Zone at the bridge — a hot humbucker with a super-wide dynamic range. It's a perfect complement to the RG8570Z's DiMarzio Air Norton at the neck, which is deep, warm, and remarkably clean. Finally, a DiMarzio True Velvet in the middle position offers up clean, punchy high and midrange tones. You'll love this ultra-flexible pickup trio.
Palm muting never felt so good with the Edge-Zero bridge
Whether you palm mute with precision or simply have a wild strumming style, few things are worse than getting hung up on your bridge during a furious performance. Guitar players at Sweetwater all agree the Ibanez Edge-Zero bridge gets out of the way of your playing while still serving up maximum expression and tuning stability. You'll barely know it's there, thanks to its streamlined profile and recessed fine tuners. And locking studs give you additional tuning stability.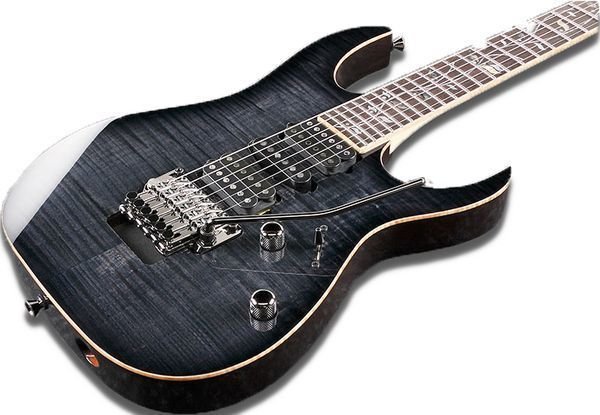 Ibanez RG8570Z J Custom Solidbody Electric Guitar Features:
Resonant African mahogany body capped in beautiful AAA flamed maple
5-piece maple/wenge J Custom Super Wizard neck provides a just-right feel
Bound ebony fingerboard with Prestige fret edge treatment delivers the ultimate in smooth playability
DiMarzio Air Norton, True Velvet, and Tone Zone pickups serve up classic tone
Play expressively while maintaining your tuning stability with the Edge-Zero tremolo
Eye-grabbing tree of life fingerboard inlay and cosmo black hardware