Roadhouse USA location:
Taylor 312CE Sb LTD V-Class Acoustic/Electric Guitar.
Mint condition, comes as pictured with case and paperwork. You can't go wrong at this price. Save $500 off the price of a new one and get this one in new condition!
Specs:
Taylor 312ce-SB LTD Grand Concert Acoustic-Electric Sunburst
Here is a limited edition 312ce-SB LTD, a limited edition Grand Concert finished in a vibrant Sunburst. Taylor's 312ce is a grand concert style acoustic guitar with plenty of volume and crisp tone. Featuring a beautiful limited edition Sunburst finish with a sitka spruce top, a black binding which accents the body, and the guitar's design lends to a bright and crisp sound – great for strummers who want to cut through the mix. Complete with Taylor Expression System 2 electronics, it's a great guitar for everything from the casual home jam session to the stage.
Includes: Hardshell Case and Paperwork
Acoustic-Electric Guitar
Sunburst Finish
Grand Concert Style Body with Black Binding
Venetian Cutaway
Sapele Back and Sides
Sitka Spruce Top
Tropical American Mahogany Neck
Ebony Fretboard with Gemstone Inlays
24-7/8″ Scale Length
1.75″ Nut Width
20 Frets
Taylor Expression System 2 Electronics
Ebony Bridge
Chrome Plated Taylor Tuners
Tusq Nut
Chrome Hardware
Value-packed Taylor Grand Concert
Combining understated aesthetics, tone-enhancing details, and amazing value, Taylor's 300 Series guitars are incredibly popular. The richly grained Sitka spruce top of the 312ce Grand Concert V-Class acoustic-electric pairs beautifully with its sapele back and sides to deliver a powerful, beautifully balanced sound with punchy midrange focus and clear treble — a sound forged by Taylor's revolutionary V-Class bracing and amplified flawlessly by the onboard Expression System 2 electronics. The 312ce is a perennial favorite here at Sweetwater, and it's easy to see — and hear — why. While you delight in its beautiful tone, your eyes will savor the 312ce's tasteful appointments.
V-Class bracing: a sonic revelation
Bracing is the internal framework of an acoustic guitar that helps shape its sound. Although X-bracing has been standard in acoustic guitars for over a century, it creates an innate conflict between two key elements of a guitar's sound: volume and sustain. The guitar's top (its soundboard) contributes to both. The flexibility of the top generates volume (projection), while its stiffness generates sustain. And with X-braced guitar tops, here's where the tradeoff comes in: When something is made stiffer, its flexibility is reduced (and vice versa). V-Class bracing changes all that.
With Taylor's V-Class bracing, an acoustic guitar top can be both stiff and flexible, for more volume and sustain. V-Class bracing provides stiffness parallel to the strings for more rigidity and, hence, sustain. Flexibility on either side generates the air movement necessary for robust projection. It's the best of both worlds. This groundbreaking innovation also improves intonation by producing notes that are not only louder and have longer sustain, but they're more in tune with each other. V-Class bracing boosts volume evenly across the tonal spectrum, increases sustain, and improves the natural intonation of the instrument by creating a more synergistic response from the soundboard. This fosters a more harmonious relationship between the notes you play, helping chords to ring out in cohesive splendor. Pick up a Taylor with V-Class bracing and experience it for yourself.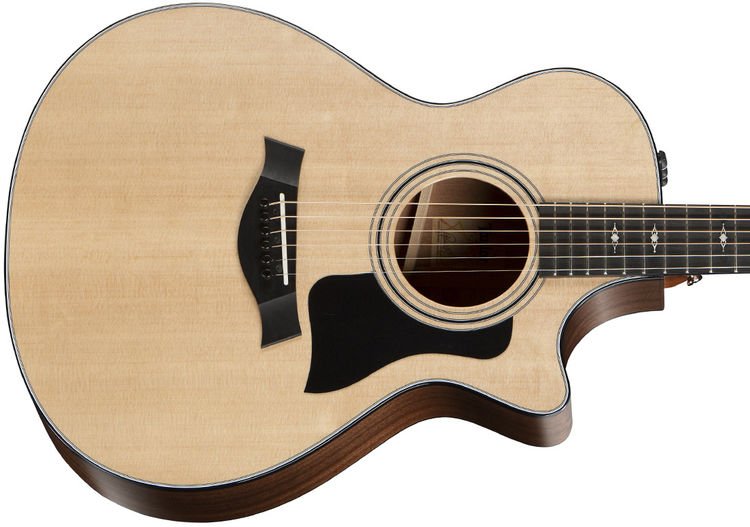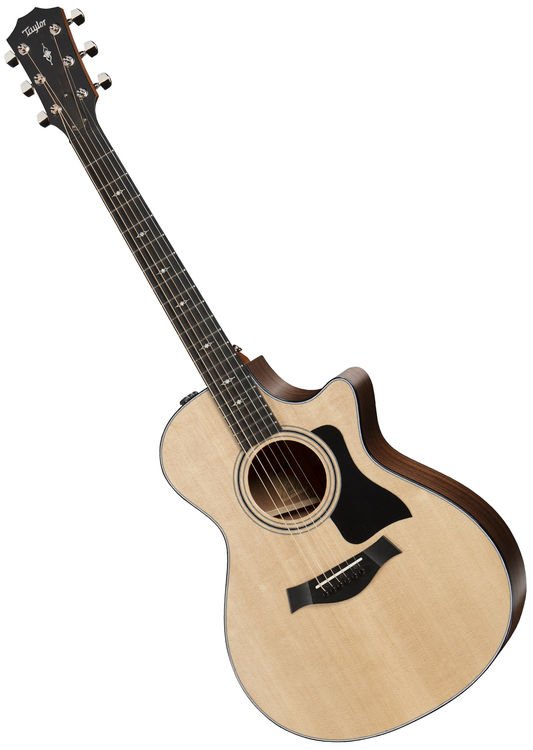 Ideal for fingerstyle and tracking
For fingerstyle and tracking, Sweetwater's guitar gurus favor Taylor's Grand Concert body style, which gives you clarity and balanced tone that lends itself to layering with other instruments in thicker arrangements where a larger-bodied acoustic would take up too much sonic real estate. This guitar's smaller Grand Concert body and tapered waist not only make it a great studio and stage guitar, but its short scale and lighter string tension also make it easier to play — perfect for younger players with small hands. It also makes for a more efficient design, in that the smaller body is inherently stronger, which enables it to be more lightly braced, making it easier to set the strings in motion.
Exceptional tonewoods deliver timeless tone
As a top tonewood, Sitka spruce offers a combination of strength and elasticity that delivers a broad dynamic range with crisp articulation that's ideal for a wide range of playing styles, from delicate fingerpicking to aggressive flatpicked strumming. Sapele, used for the back and sides of the 312ce, is tonally similar to mahogany, but its higher density tends to produce a slightly brighter sound with more high-end shimmer. The characteristic sapele sound is consistently balanced across the tonal spectrum, which makes it, again, suitable to a broad range of playing styles.
Cutting-edge Taylor Expression System 2 electronics
If you play plugged in, you're going to love the Taylor Expression System 2 (ES2) electronics built into your 312ce. The key to this fantastic system is the 3-section proprietary pickup located behind the saddle. Because of where it's positioned and how it's integrated into the guitar's saddle, the ES2 pickup provides you with remarkably clear and accurate sound. In addition to a master volume control, a pair of tone controls let you tweak your highs and lows to get the sound you need, and a discreet polarity switch offers vital onboard feedback suppression.