Description
Roadhouse USA location:
2016 Gibson J45 Standard EC Acoustic/Electric Cutaway Guitar in Vintage Sunburst.
Harder to find Cutaway model of the J45 by Gibson.
This one is in very nice condition with no issues. You will find some pick scratches here and there due to the black edged finish, but thats about it. It has been babied and played sparingly.
Comes as pictured with original Gibson hard case that shows a bit of wear on the outside but functions perfectly.
Great guitar either plugged in with the LR Baggs system or acoustically just sitting on your couch.
Specs:
An American Classic in Style and Tone
First introduced in 1942, the Gibson J-45 immediately earned a reputation as a beautiful-sounding, sturdy acoustic. In short order, it was dubbed the Workhorse and has held onto that moniker ever since. The 2018 J-45 Standard EC acoustic-electric continues that storied tradition but adds a cutaway for players who like to move as far up the neck in chording and lead play as possible. The J-45 Standard EC features the classic round-shoulder dreadnought shape that emits a full, balanced expression, warm bass, and excellent projection. The J-45 EC features all that rich tone, thanks to a AA-grade Sitka spruce top and a solid mahogany body. In addition, for unbelievable onstage tone, an LR Baggs VTC pickup system is installed on the Gibson J-45 EC that gives you incredible amplified tone. It almost goes without saying that many acoustic players  have a J-45 EC in their acoustic collection.
Expertly selected and crafted tonewoods for incredible tone
The Gibson J-45 EC body style is among Gibson's most beloved for good reason. Players over the decades since it first showed up heard immediately the rich, dark, full tone of its superior tonewoods. The J-45 Standard EC features a AA-grade Sitka spruce top for presence, while pattern-grade mahogany makes up its back and sides. Other touches include hand-scalloped, radiused top bracing, a tapered dovetail neck joint, and a single-ring rosette with 3-ply binding. All of these materials, along with the expert craftsmanship behind them, make the J-45 Standard EC a stellar instrument both in style and acoustic application.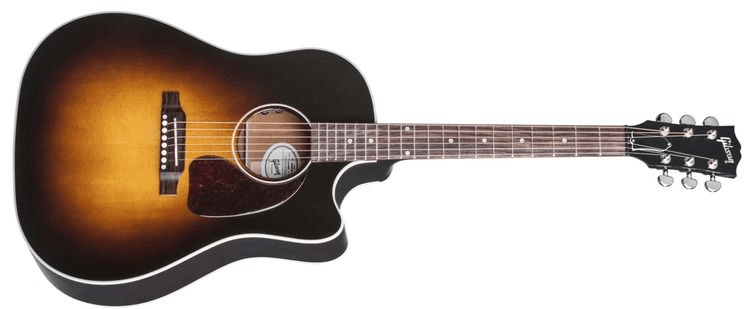 Rosewood fingerboard with rolled edges and dot inlays
The Gibson J-45 Standard EC's fingerboard comprises high-grade rosewood, which is personally inspected and qualified by Gibson experts before it enters the Gibson factories. A resilient and durable wood, rosewood makes for a balanced and stable fingerboard and gives each chord and note enhanced clarity and bite. The dot inlays on the J-45 Standard EC are made of genuine mother-of-pearl and are added to the fingerboard using a special Gibson process that eliminates gaps and doesn't require fillers. What's more, the J-45 Standard EC's fingerboard boasts a rolled edge that's lightly beveled, which enhances the instrument's smooth playability.
Get amazing sound onstage courtesy of LR Baggs VTC electronics
The Gibson J-45 Standard EC comes with LR Baggs's VTC acoustic pickup system — a popular choice among acoustic guitarists. This system features a low-profile under-saddle transducer that's proven more stable and durable than many standard ribbon-type pickups. Its sleek and effective design removes unnecessary internal components to enhance the coupling between the pickup and the guitar and improve the sensitivity of the transducer for a robust, lively, and natural acoustic sound with excellent dynamics and delicate high end. Combined with an onboard preamplifier with an unobtrusive and removable volume control mounted just inside the soundhole, the VTC gives your Gibson Acoustic J-45 Standard EC a pure-sounding amplification presence.
Gibson J-45 Standard EC Acoustic-electric Guitar Features:
Cutaway design provides full access to the fingerboard
Solid Sitka spruce top offers great projection and tone
Solid mahogany back and sides offer warm, round sound
LR Baggs VTC electronics transfer every nuance of your tone to your PA or amp
Softened fingerboard edge adds increased playing comfort
New finishing oil maximizes the tonewood's natural vibrancy