Description
Roadhouse USA location:
Diezel VH Micro 30-watt Head.
Brand new, just took it out of the box to take pics and plugged it in briefly to see what it could do.
Very impressive sounding little dude for a stupid price.
Specs:
Diezel's VH4 is a high-gain legend, tailor-made for players who crave tight, articulate rock and metal tones. The VH Micro takes the unmistakable sound of the VH4's third channel — the most celebrated of its four channels — and packs it into a flyweight 30-watt amplifier head. This super-portable powerhouse boasts a familiar control layout, with Master, Bass, Middle, Treble, and Gain controls, along with Diezel's vaunted Deep and Presence controls. A series effects loop adds even more functionality to this scaled-down hard rock tone machine. Whether you deploy it at home, in the studio, or during rehearsal, the VH Micro is your one-way ticket to Diezel's potent high-gain tones.
The VH4's historic third channel
The 4-channel, 100-watt Diezel VH4 is a versatile amp, capable of delivering sparkling cleans, arena-sized crunch, metal-ready grind, and searing leads with equal aplomb. It's the VH4's third channel — the Mega channel — that's cemented its place in hard rock history, however. This versatile channel serves up Diezel's trademark sound, churning out heavy metal rhythms and soaring solos that are guaranteed to inspire your best playing. In fact, the VH4's third channel is so coveted that many players buy the amp for that channel alone. The VH Micro is based solely on the Mega channel, providing you with 30 watts of inimitable Diezel tone.
Streamlined yet eminently powerful feature set
The Diezel VH Micro includes a streamlined feature set that you can dial in quickly and easily. Master and Gain controls enable you to obtain your desired amount of saturation at any sound level. Bass, Middle, and Treble knobs give you all the classic sound shaping you need. You also get Diezel's renowned Deep and Presence controls, which make tailoring your resonance and bite a piece of cake. To top it off, integrating your pedalboard and outboard effects into the VH Micro is a breeze, courtesy of its built-in series effects loop.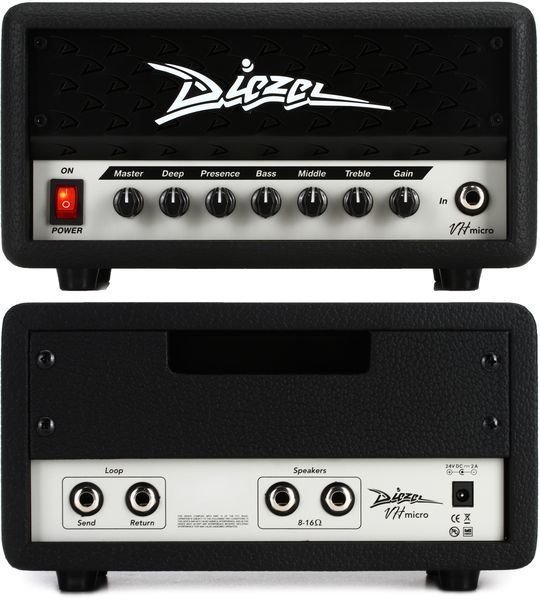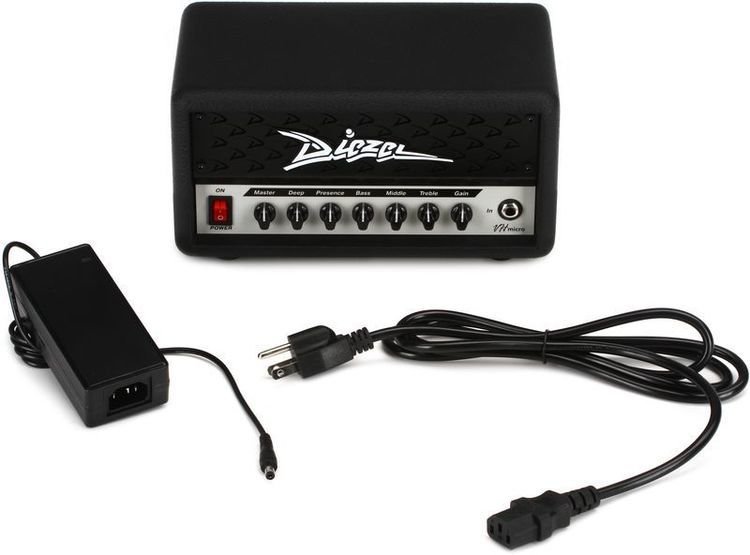 The Diezel legacy
It wasn't long after Diezel released their first tube guitar amplifier head that they started popping up behind some of the most influential guitarists in the world — not bad when your first design remains your flagship! Guitarists such as Tool's Adam Jones, Journey's Neal Schon, and Metallica's James Hetfield were all early adopters to this new breed of tight precision distortion. Today, Diezel has greatly expanded their line of top-tier amplification. Sweetwater couldn't be prouder to represent the quality and tone that is Diezel Amplification.
Diezel VH Micro Amp Head Features:
30W, 1-channel amp head based on the Diezel VH4's famed Mega channel
Churns out heavy metal rhythms and soaring solos that are guaranteed to inspire
Familiar Master, Bass, Middle, Treble, and Gain controls
Deep and Presence controls make tailoring your resonance and bite a piece of cake
Built-in series effects loop makes integrating your pedalboard a breeze
Included 24V universal-voltage power supply