Description
Roadhouse USA location:
ESP LTD George Lynch GL KAMI4 Kamikaze 4 Graphic W/OHSC.
I love these guitars. Having owning a number of the ESP Custom Shop version Kami's, I can honestly say that their ain't much difference other than the price tag.
This one was collector owned and is in un-played condition.
They don't make this guitar anymore, so grab this one in mint condition while you can.
Comes as pictured with form-fit ESP hard case.
LTD Version of George Lynch's Original Custom KAMI-4
For the first time, ESP is offering George Lynch's original custom design in a more affordable LTD version. The LTD GL-KAMI4 has all the eye-grabbing features of the original, including its famous Kamikaze graphic and distinctive sawtooth-shaped headstock. Coax everything from bell-like single-coil tones to metallic humbucker screams out of this guitar's versatile duo of hot-sounding pickups. Experience rapid-fire playability, thanks to the LTD GL-KAMI4's comfortable Thin U neck profile and fast-playing 22-fret maple fingerboard. Beyond that, a Floyd Rose tremolo allows for insane twisting, bending, and dive-bombing. Thanks to the LTD GL-KAMI4, owning one of ESP's most famous Custom Shop models is easier than ever.
Comfortable body and neck construction
In 1985, George Lynch's signature model guitars on which the LTD GL-KAMI4 is based brought ESP to the guitar-playing masses. The LTD GL-KAMI4's body contours fit you like a glove and keep the guitar nicely balanced. Its alder construction offers a balanced tone that's favored by many fleet-fingered guitarists for its full sound and light weight. And the LTD GL-KAMI4's 22-fret neck boasts a Thin U profile to make moving up and down the neck fast and effortless.

A versatile duo of hot-sounding pickups
ESP loaded their LTD GL-KAMI4 with a Seymour Duncan Signature George Lynch Hunter bridge humbucker. This is the same pickup as in George's original, yielding plenty of clarity and detail while still being able to drive the front end of your amp. Beyond that, an ESP-designed LSH-100N single-coil neck pickup adds warm, bell-like tones that sound equally great clean or overdriven. The LTD GL-KAMI4 features streamlined electronics — just pull up on the single volume knob to engage its neck pickup and expand your tonal palette.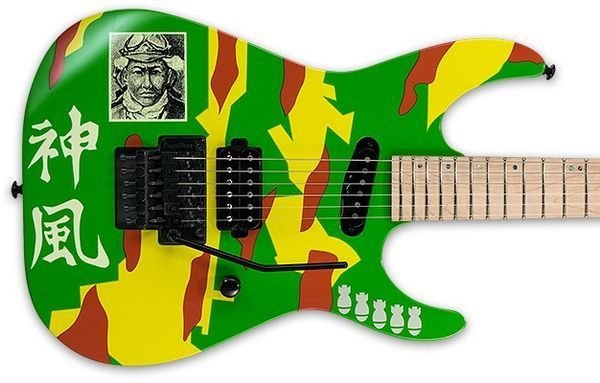 ESP LTD — the perfect guitar for rock or metal
ESP LTD guitars were created to bring a more affordable version of the classic designs and quality of ESP guitars to a new market. The entire ESP LTD line of instruments features premium tonewoods, quality pickups, and solid hardware for a lifetime of use. An exacting eye for detail and quality means that every instrument is ready to rock when it leaves the factory. An impressive list of signature guitars by some of today's biggest guitar heroes shows the popularity and respect held by ESP LTD. If you're looking for the perfect rock or metal guitar, you need to check out ESP LTD guitars.
ESP LTD GL-KAMI4 Solidbody Electric Guitar Features:
LTD version of George Lynch's original custom KAMI-4
Alder construction offers light weight and a balanced tone
Seymour Duncan Signature George Lynch Hunter bridge humbucker yields sublime clarity and amp-driving output
ESP-designed LSH-100N single-coil neck pickup adds warm, bell-like tones
Comfortable Thin U neck profile and fast-playing 22-fret maple fingerboard
Floyd Rose tremolo for twisting, bending, and dive-bombing
Eye-grabbing green Kamikaze graphic and sawtooth headstock