Description
Roadhouse USA location:
EVH Striped Series Red w/ Black and White Stripes Guitar.
This one was customized/relic'd  and set up by a luthier, which if you have ever had one of these guitars in your hands, you know is 100% necessary because the necks and fretwork on these guitars is crap. If you DON'T have a qualified tech or luthier level the frets etc, you aren't going to have a guitar that is much fun to play. This one has already had the work done and plays great.
In addition to a killer setup, this one has been customized as you can see to approximate many of the aspects of Ed's original, with the reflectors on the back, right down to the quarter drilled in by the Floyd.
Cool EVH Red & White stripe that actually plays well and has some cosmetic mojo going for it, all on a budget.
Comes as pictured with softside hard-foam case and original paperwork.
Original Specs:
Built for extreme playability
From its basswood body and eye-catching striped finish to its 1-piece maple neck, the EVH Striped Series just screams quality — and that's just the tonewoods! This gorgeous guitar is made for serious playing, with a compound-radius fingerboard (12″-16″) for chording to high-speed comfort, a Floyd Rose locking tremolo system (complete with D-Tuna), and a hard-mounted EVH humbucker. All the components come together to make a guitar that plays like a dream.
The most recognizable EVH guitar finishes
Van Halen's most recognizable instruments are his striped Frankenstein guitars. EVH has reproduced the same look and feel of these early guitars for today's market. These single-pickup Floyd Rose maple fretboard guitars mean business. The striped finish can be seen for miles and is unmistakable. There are a lot of Eddie Van Helen aficionados here at Sweetwater, and they're excited about these Striped Series guitars!
Execute massive dive-bombs with a Floyd Rose tremolo
Perform awesome dips, warbles, and dive-bombs on the EVH Wolfgang Special's Floyd Rose tremolo. This is the tremolo that rockers have been drawn to for its accuracy and tuning stability. The cool EVH D-Tuna changes your low-E string tuning to D with the simple flick of your wrist.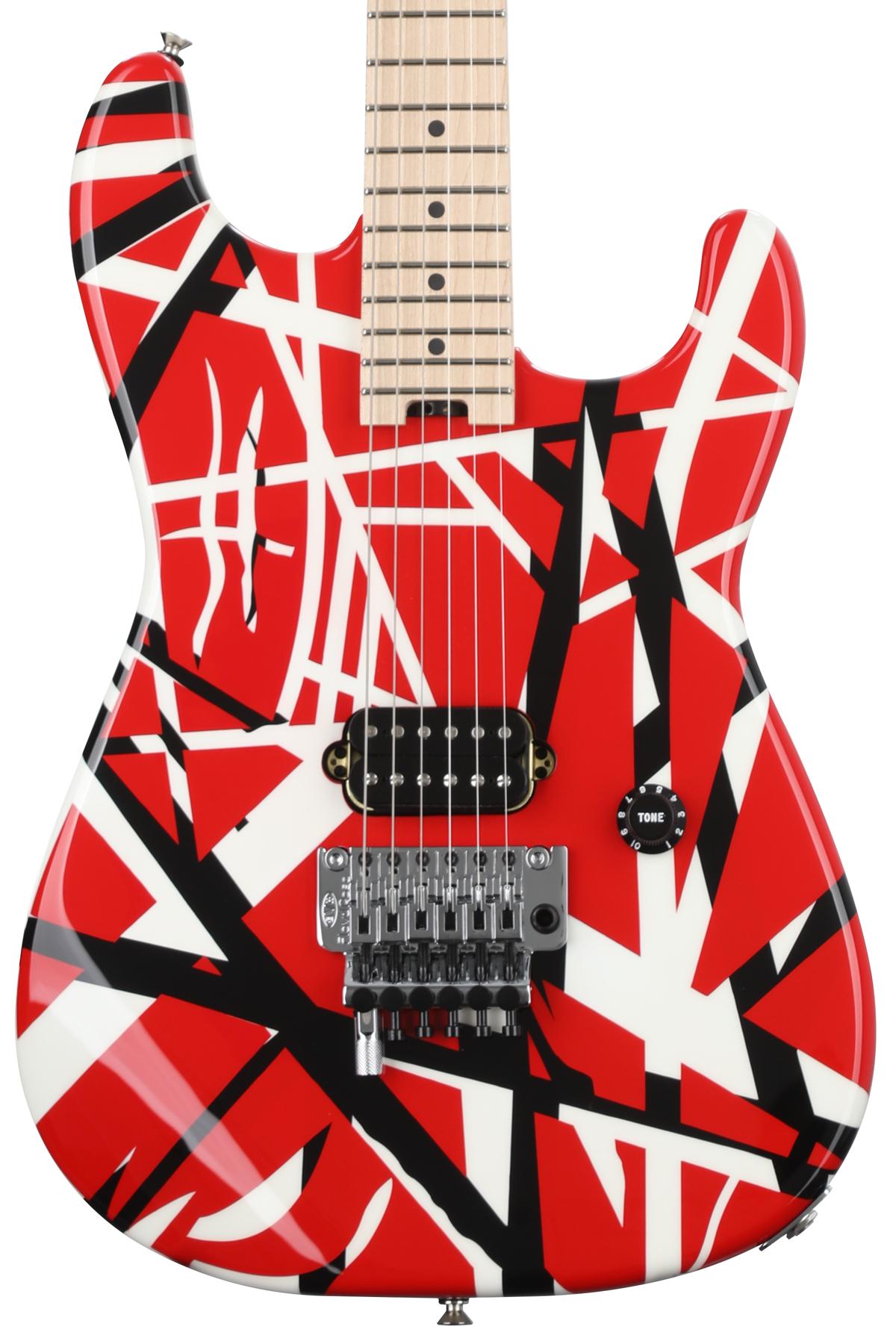 EVH Striped Series Features:
Built to rock legend Eddie Van Halen's exact specifications
1-piece maple neck with graphite reinforcement
Floyd Rose tremolo for big dives
D-Tuna tremolo device gives you instant Drop D tuning
Basswood body with direct-mounted EVH humbucker
Classic striped finish