Description
Roadhouse USA location:
Gibson Acoustic/Electric  Slash J-45 Standard November Burst.
This guitar is brand new. The box was opened for pics and never played.
Comes as pictured with all original case candy unopened, COA, etc.
Specs:
Part of Gibson's Slash Collection, the Slash J-45 Standard is an acoustic-electric guitar that's worthy of its namesake. Every note you play will come through loud and clear, thanks to the Slash J-45 Standard's natural punchy tone, amazing projection, and sizzling harmonic overtones. Enjoy unbelievable playability, courtesy of a comfortable rosewood-capped custom-shaped neck and easy-playing 16″-radius fingerboard. And when it's time to entertain the masses, you'll appreciate the uncompromising quality of this A/E's LR Baggs VTC electronics. The Slash J-45 Standard sports the perfect combination of traditional appointments and modern features.
Classic construction with Slash's personal touches
The Slash J-45 Standard conjures the vibe of the influential Gibson guitars Slash has used during his career. It includes a Sitka spruce top, mahogany back and sides, and a comfortable custom-shaped neck with an easy-playing 16″-radius fingerboard. You also get Slash's "Scully" signature drawing on the back of the headstock and Slash's signature on the truss rod cover. Its unique blend of traditional appointments and modern features make the Slash J-45 Standard an inspiring acoustic-electric guitar that you won't want to put down.
Get amazing sound onstage courtesy of LR Baggs VTC electronics
The Gibson Slash J-45 Standard comes with LR Baggs's VTC acoustic pickup system — a popular choice among acoustic guitarists at Sweetwater. This system features a low-profile under-saddle transducer that's proven more stable and durable than many standard ribbon-type pickups. Its sleek and effective design removes unnecessary internal components to enhance the coupling between the pickup and the guitar and improve the sensitivity of the transducer for a robust, lively, and natural acoustic sound with excellent dynamics and delicate high end. Combined with an onboard preamplifier with an unobtrusive and removable volume control mounted just inside the soundhole, the VTC gives your Slash J-45 Standard a pure-sounding amplification presence.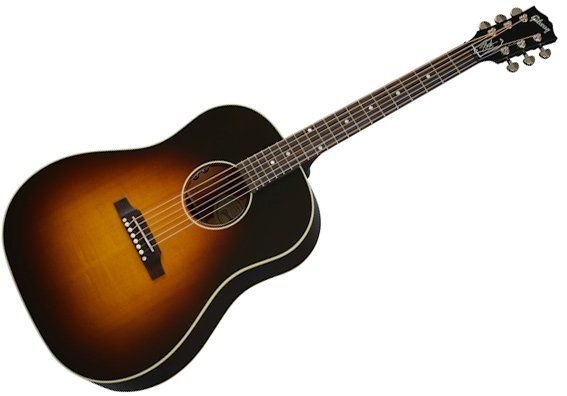 Slash — a brief biography
Known primarily for his work with the hard rock band Guns N' Roses during the late 1980s, Slash has garnered a well-earned reputation as one of rock's preeminent guitarist. Named the runner-up on Time magazine's list of "The 10 Best Electric Guitar Players" in 2009, and No. 65 on Rolling Stone magazine's list of "The 100 Greatest Guitarists of All Time" in 2011, Slash continues to receive accolades from critics and music fans alike. Aside from his enormous success with Guns N' Roses, Slash has also achieved acclaim with his side project, Slash's Snakepit, and as a member of the supergroup Velvet Revolver. He's recorded three solo albums, two with his band, Myles Kennedy and the Conspirators. In 2012, Slash received one of rock music's highest honors, when he was inducted into the Rock and Roll Hall of Fame alongside his Guns N' Roses bandmates.
Gibson Acoustic Slash J-45 Standard Features:
Spruce top yields a direct, punchy sound with broad dynamic range
Mahogany back and sides exhibit organic-sounding mids with gorgeous overtones
Comfortable custom-shaped mahogany neck
Easy-playing 16″-radius fingerboard
LR Baggs VTC electronics deliver top-shelf plugged-in tone
Boasts Slash's "Scully" signature drawing on the back of the headstock and a signed truss rod cover
Includes a hardshell case, blank truss rod cover, and 4 Slash Jim Dunlop Tortex picks