Description
Roadhouse USA location:
Gibson Custom Vivian Campbell Les Paul Custom in Antrim Basalt Burst.
Only 250 of these made worldwide, and now, of course,  out of production. This is number 89.
9.9lbs
Comes with everything pictured including COA and case candy.
This LP is basically in unplayed condition and would be mint if not for some VERY light finish checking. When I say light checking, I truly mean, light checking. It is so light that you can only see it at certain angles. This is nothing you can 'feel' with your fingers, it is just finish checking under the clear that is common on these types of lps.
I did my best to capture it in the pictures under bright lights, but it is literally not visible unless you hold the guitar at a certain angle. Most all of it is around the headstock area and the body of the guitar is perfect. Nothing on the top or back, just light checking around the headstock. (pardon the camera glare in a couple of pics. I tried to use as much light as possible to show the light checking which is invisible unless you put the right light on it)
Other than this minor issues, the guitar is in excellent+++ condition. It was collector owned and not played.
Action is very good and it plays and sounds incredible.
Overall a very cool, unique, and collectable Les Paul that is only going to appreciate in value.
Specs:
Vivian Campbell is a musical tour de force, and his signature Les Paul Custom is as impressive as the man himself. Its resonant mahogany body features an eye-catching figured maple top and distinctive Antrim Basalt Burst finish. Its 5-piece maple/walnut neck boasts a comfortable slim-to-medium 1970s C-shaped profile and a fast-playing Richlite fingerboard. Chew on a thick slice of high-gain heaven, thanks to twin DiMarzio humbuckers. Beyond that, this guitar is loaded with premium parts including CTS pots, Orange Drop capacitors, a handwired harness, and a Switchcraft toggle switch. The Gibson Vivian Campbell Les Paul Custom is limited to 250 guitars worldwide.
'70s profile neck for uber-playability
The Vivian Campbell Les Paul Custom sports a comfortable, fast-playing neck with a slim-to-medium 1970s C-shaped profile. Early Les Paul guitars had huge "tree-trunk" necks, but in 1959, the company began slimming the neck down to a more comfortable size. By 1960, this evolved into the SlimTaper neck. Necks stayed thin in the '70s, and Gibson moved from their traditional 1-piece mahogany design to a stronger 3-piece maple one. The Vivian Campbell Les Paul Custom takes this design even further with a 5-piece maple/walnut neck and a long neck tenon for added sustain, clarity, and resonance. At Sweetwater, we can't believe how comfortable this neck is. Whether you're chording down low or riffing up high, this neck — with its Richlite fingerboard and pearl block inlays — always feels just right!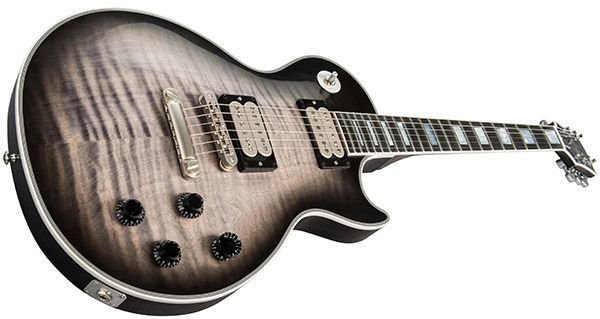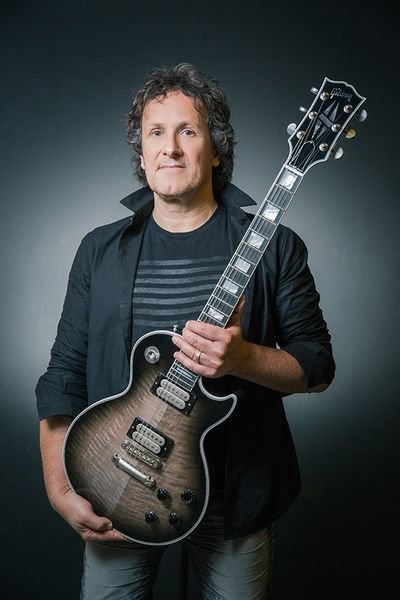 DiMarzio humbuckers yield massive high-gain tones
The Vivian Campbell Les Paul Custom features a DiMarzio Super Distortion humbucker in the bridge position and a Super 3 at the neck. The Super Distortion is one of DiMarzio's earliest pickups, and it's designed to send your tube amp straight into overdrive, thanks to its ultra-high output. The Super 3 sounds similar but boasts more midrange grind and a chopped high end that's tailor-made for players who love high-gain amps and scooped mids. Both of these pickups deliver huge tones with humbucker-signature thick mids, fat highs, and killer lows.
Vivian Campbell's jaw-dropping rock 'n' roll resume
Renowned for his blistering-fast solos and explosive style, Vivian Campbell began playing guitar at the age of 12. After getting his feet wet in the British heavy metal band Sweet Savage, Vivian Campbell joined Ronnie James Dio's eponymous band in the early 1980s. Vivian also played in Whitesnake, Riverdogs, and Shadow King before succeeding Steve Clark in Def Leppard. As a lifelong fan of Thin Lizzy (and their guitarist Gary Moore in particular), Vivian had the distinct honor of joining their ranks in 2009. He also showcases his impressive guitar skills as a member of Last in Line. The Vivian Campbell Les Paul Custom is loaded with character and does a tremendous job of capturing Vivian's unique individuality.
Gibson Custom Vivian Campbell Les Paul Custom Solidbody Guitar Features:
Signature Les Paul of legendary guitarist Vivian Campbell
Resonant mahogany body with eye-catching figured maple top
Comfortable 5-piece maple/walnut neck with a slim-to-medium 1970s C-shaped profile
Fast-playing Richlite fingerboard
DiMarzio humbuckers deliver huge tones with humbucker-signature thick mids, fat highs, and killer lows
Distinctive Antrim Basalt Burst finish
Dunlop 6100 (Jumbo)
Limited to 250 guitars worldwide