Description
Roadhouse USA location:
J. Rockett Audio Designs The Jeff Archer Boost Overdrive Pedal-New.
Part-for-part Re-creation of an Iconic Overdrive with NOS Components
The Jeff Archer from J. Rockett Audio Designs is a limited-edition version of the company's massively popular high-headroom "transparent" overdrive pedal. This stompbox still features the coveted K-style harmonic saturation of the J. Rockett's original unit, but it ups the ante by replacing some key components, including the germanium diodes, with vintage NOS variants. These are the same mods on legendary guitarist Jeff Beck's unit, and you can hear the Jeff Archer all over his 2016 album, Loud Hailer, and live with his current touring board. The Jeff Archer is organic, responsive, and versatile, with a smooth and sweet top-end response that sounds magnificent through a wah pedal. Guitarists at Sweetwater have found that the Jeff Archer pairs well with any number of guitars and amps, from single-coils and small combos to overwound humbuckers and British-style stacks!
Endless headroom and clarity
Whether you power it from a battery or standard 9-volt wall supply, the Jeff Archer gives you tons of clean headroom and endless amp-driving potential. Internal circuitry boosts operating voltage up to 18 volts for expanded output and clarity, all without specialized converters or adapters.
Classic K-style tone shaping
This stunning re-creation of the iconic silver boost/OD gives you plenty of ways to shape your tone. Engaging the Jeff Archer's Gain control introduces a sweet, harmonically rich mid-gain saturation. Rolling up the Treble takes you from a dark, nasal "squonk" to a midrange bark to a sparkling top-end chime. For all shades of classic crunch and beyond, the J. Rockett Archer pedal from Sweetwater rules the roost.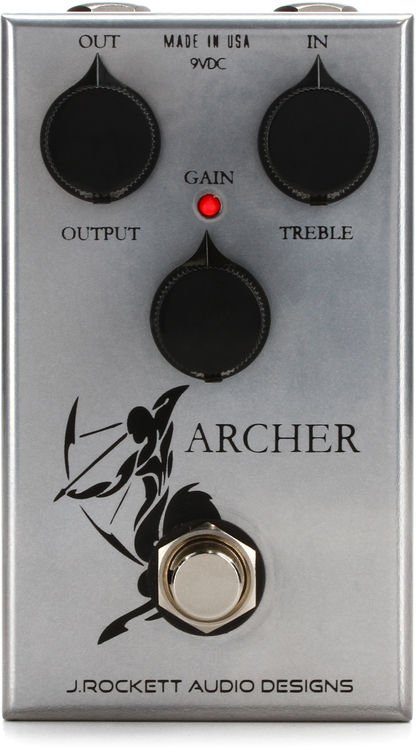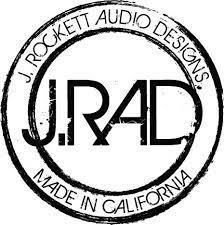 J. Rockett Audio Designs The Jeff Archer Boost/Overdrive Pedal Features:
Modded edition with vintage NOS components — the same found on Jeff Beck's personal Archer
Coveted K-style breakup and saturation
Classic silver chassis and 3-knob layout
Organic, responsive, and versatile
Great dynamics and sensitivity
Mid-gain crunch to velvety leads
Doubles as a high-headroom clean boost to drive an amp
Runs off of 9-volt power, but has an internal charge pump to double its voltage to 18 volts*