Description
Roadhouse USA location:
Kramer Baretta Electric Guitar Rainbow Leopard.
Brand new, only taken out for pics.
Specs:
What screams '80s shred more than Superstrats with sparkle finishes and rainbow leopard graphics? Kramer's new batch of Barettas features flashy and over-the-top designs by Kramer Custom Graphic Artist Chris Stemmer to invoke this pillar of metal's golden era. Aside from the standout visuals, this guitar is all business — a lightweight alder body comes loaded with a Seymour Duncan JB Zebra-coil humbucker and a Floyd Rose 1000 Series Tremolo to deliver all the high-gain riffage and howling dive-bombs you could ever desire. The maple neck boasts 22 jumbo frets in a comfortable 12.6-inch radius that's perfect for wide-range multi-step bends. If you're looking to live out your dreams of playing lightning-fast licks and chugging rhythms, there are few guitars that do it better than the Kramer Baretta!
Stripped-down, high-performance shred machine
Boasting a classic 1980s design, the Baretta is a stripped-down, high-performance shred machine. Its alder body exhibits a resonating sound with super-long sustain and truckloads of mix-penetrating bite. Its maple neck features a lightning-fast 12.6-inch radius fingerboard, a 25.5″ scale, and 22 medium-jumbo frets for en exceptionally comfortable playing experience.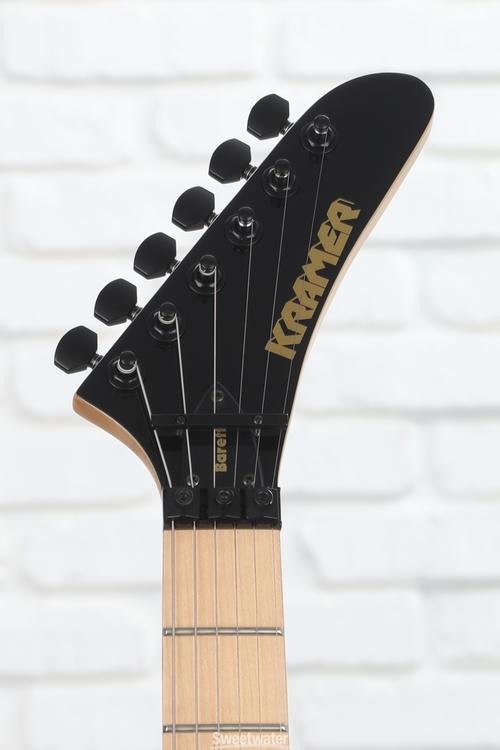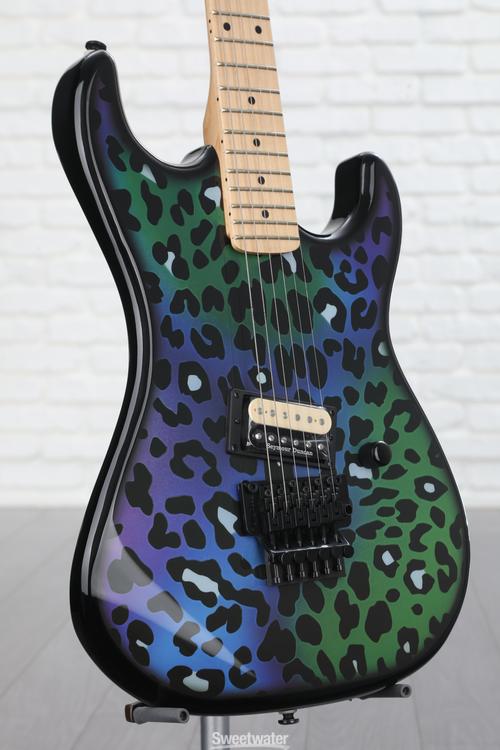 Seymour Duncan JB humbucker — built to rock hard
Kramer's Baretta was built for hard rock. And it rocks hard, thanks to its slanted zebra-colored Seymour Duncan JB humbucker. This pickup is one of the most popular in the world, serving up the classic sound of a hot-rodded humbucker. You know, that sound — the one we've all loved for the last 30 years. This scorcher boasts plenty of output without sacrificing tone, and it adds harmonics, sustain, and the perfect amount of distortion to your playing. The Baretta includes a single volume knob. Plus, the volume pot is push-pull, giving you more sonic variety with both series and parallel settings.
Floyd Rose tremolo for twisting, bending, and dive-bombing
Do you dive-bomb? Shriek? Squeal? Flutter? Of course you do! Otherwise, you wouldn't be on Sweetwater.com looking at shred machines like the Baretta. Similar to other high-performance solidbody electric guitars, the Baretta comes equipped with a rock-solid Floyd Rose double-locking trem. It can be used for subtle vibrato or full-blown dive bombs — the choice is yours. Either way, you'll experience the same response and tuning stability that you'd expect from a Floyd Rose. Whether you use it or abuse it, you'll have trouble knocking the Baretta out of tune.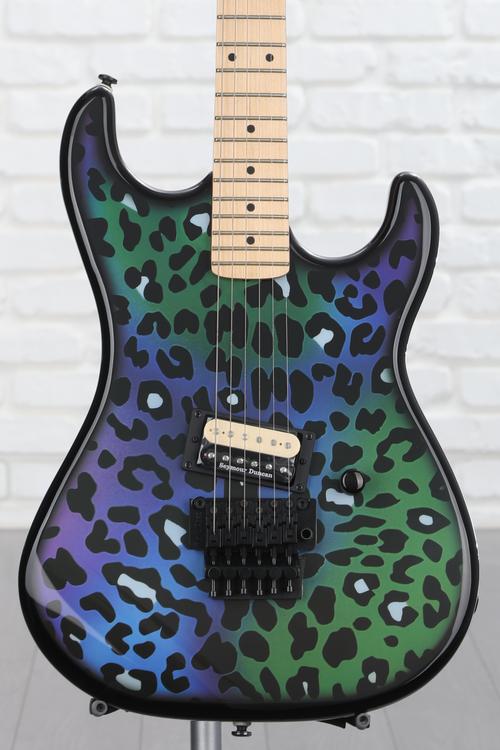 Kramer Baretta Electric Guitar Features:
Based on every 1980s-era shredder's dream guitar
Lightweight alder body delivers long-sustain and a resonant tone
Maple neck features a lightning-fast 12.6-inch fingerboard with a 25.5-inch scale and 22 medium-jumbo frets
Slanted zebra-colored Seymour Duncan JB humbucker boasts plenty of output without sacrificing tone
A single volume knob provides all the control you need, with a push/pull for versatile series and parallel tones
Floyd Rose 1000 Series double-locking trem for dive-bombing, shrieking, squealing, and fluttering
LRT-L40 Trem Stop for enhanced tremolo stability
Rock-solid mini die-cast machine heads with a 14:1 turning ratio
Eye-grabbing banana-style headstock