Description
Roadhouse USA location:
Kramer Tracii Guns Gunstar Voyager Outfit Black Metallic/Silver Ghost Flames.
Guitar is new with Kramer gigbag.
These are kind of laughably good quality for the money. Cool guitar that plays WAY better than you might expect.
The Signature Guitar of L.A. Guns' Tracii Guns
The Kramer Tracii Guns Gunstar Voyager is a head-turning, glam-certified brute of an instrument. Built around a flashy star-shaped body, this solidbody electric guitar shows no mercy when it comes to attention-grabbing style and shred-ready performance. Even unplugged, this axe's mahogany body resonates with incredible warmth and sustain. And when you do plug into your favorite master-volume British-style stack, you'll be blown away by its heavy-hitting, PAF-like humbucker tones. You'll appreciate this Voyager's playability — its 3-piece, Slim "C"-shaped maple neck and lightning-fast maple fingerboard supply the perfect springboard for crunchy riffs and blazing leads. You also get a Floyd Rose 1000 tremolo for dive-bombing, shrieking, squealing, and fluttering. Plus, the Tracii Guns Gunstar Voyager is adorned with an eye-snatching black metallic finish, a pointed headstock, and a pyramid Kramer logo.
Related Videos: Tracii Guns Gunstar Voyager Outfit – Black Metallic and Silver Ghost Flames
Feature-laden, high-performance shred machine
Teeming with flamboyant, Sunset Strip-approved style, the Tracii Guns Gunstar Voyager is laden with the high-performance features pro-level guitarists demand. Its star-shaped mahogany body exudes warmth and resonance, along with a healthy dose of natural sustain. Its 3-piece, Slim "C"-shaped maple neck features a lightning-fast fingerboard with a 25.512-inch scale and 22 frets. The Tracii Guns Gunstar Voyager also sports a bold black metallic finish with silver ghost flames, plus a pointed headstock with a pyramid logo.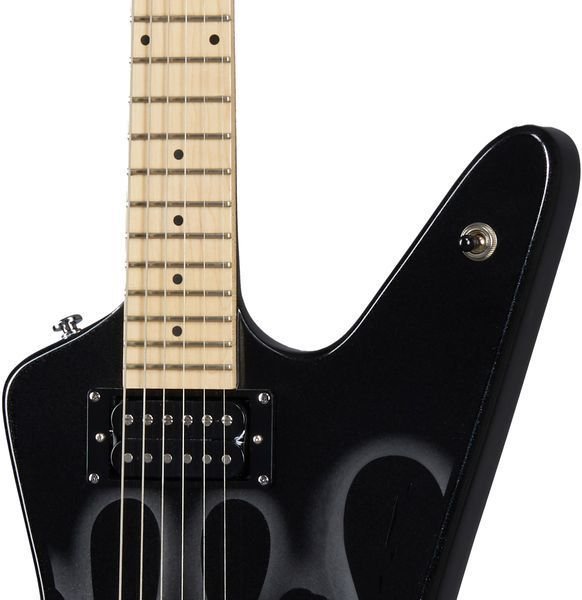 Epiphone ProBucker pickups rock hard
Early PAF humbuckers deliver the sound — the hard-rocking tones that guitarists have coveted for generations. The Kramer Tracii Guns Gunstar Voyager's ProBuckers are the culmination of Epiphone's quest to create their own PAF-style pickup. Inspired by the original PAF sound, these humbuckers pump out full overwound tones with incredible clarity. When you plug the Tracii Guns Gunstar Voyager into your favorite amp, you'll instantly recognize the signature Patent Applied For punch. What's more, each of the Tracii Guns Gunstar Voyager's pickups features its own volume control and coil-split capability, ensuring that this axe is cocked and loaded for bluesy, single-coil textures.
Floyd Rose tremolo for twisting, bending, and dive-bombing
Do you dive-bomb? Shriek? Squeal? Flutter? Of course you do! Otherwise, you wouldn't be on Sweetwater.com looking at shred machines like the Tracii Guns Gunstar Voyager. Similar to other high-performance solidbody electric guitars, the Tracii Guns Gunstar Voyager comes equipped with a rock-solid Floyd Rose 1000 double-locking trem. It can be used for subtle vibrato or full-blown dive bombs — the choice is yours. Either way, you'll experience the same response and tuning stability that you'd expect from a Floyd Rose. Whether you use it or abuse it, you'll have trouble knocking this axe out of tune. The Tracii Guns Gunstar Voyager includes a top-mounted R2 locking nut and chrome string retainer bar.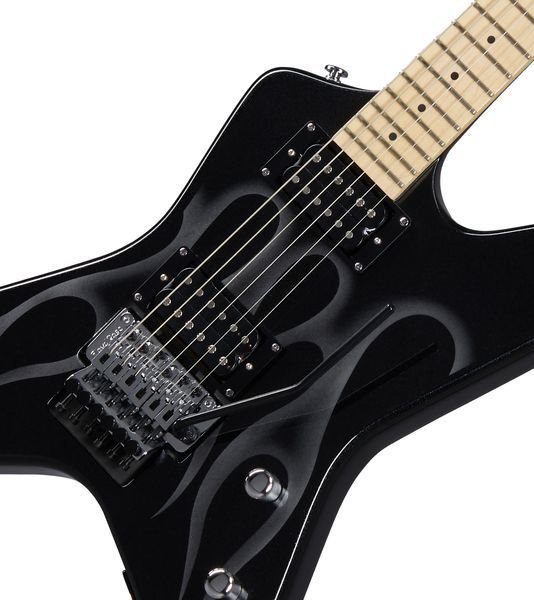 Kramer Tracii Guns Gunstar Voyager Outfit Features:
Resonant mahogany body with a flamboyant star shape
3-piece maple neck boasts a comfortable Slim "C" profile
Easy-playing maple fingerboard features a 25.512-inch scale and 22 frets
Epiphone ProBucker pickups give you hand-wound PAF tones
Coil-splits provide access to bluesy, single-coil textures
Floyd Rose 1000 double-locking trem for dive-bombing, shrieking, squealing, and fluttering
Super-stable mini die-cast tuning machine heads
Head-turning black metallic finish with silver ghost flames, pointed headstock, and pyramid logo