Description
Roadhouse USA location:
Bogner Ecstasy 3534 35-watt 3-channel Tube Head W/Footswitch.
Amp is in mint (new) condition and has basically never been played except to test it out.
Comes as pictured with footswitch.
35 Watts of EL34-fueled Bogner Tone
The Bogner Ecstasy 3534 packs 35 watts of EL34-fueled tube tone into a compact, travel-friendly amplifier head. This 3-channel powerhouse is loaded with everything you need to sculpt your dream tone, including a global Presence control, 3-way Excursion switch, dual 3-band EQs, per-channel Pre-EQ switches, and much, much more. Whatever you're aiming for — crystalline cleans, crunchy blues, or raging distortion — the XTC 3534 can achieve it with its four footswitch-accessible sounds. A built-in boost, line output, and tube-buffered effects loop sweeten the pot further. And despite its scaled-down size, this gig-ready guitar amplifier delivers sufficient punch and volume to shatter the windows and shake the rafters. While thoroughly modern, the Ecstasy 3534 exudes the classic sonic signature that made the original Ecstasy such an iconic piece of gear — it's guaranteed to inspire your best playing.
4 footswitch-accessible sounds with ample tone-shaping
You can conjure a myriad of tones from the Ecstasy 3534. For starters, its four footswitch-accessible sounds range from glassy, high-headroom cleans to blistering, high-gain cacophony — plus all points in between. Channel 1 features independent Volume, Treble, Middle, Bass, and Gain controls for complete tone-shaping, while Channels 2 and 3 include shared Treble, Middle, and Bass controls, along with independent Volume and Gain controls. A 3-way pre-EQ switch for each channel controls the openness and presence of higher-range harmonics, while a Boost switch injects your playing with extra drive and grind. You also get a 3-way Excursion switch to control speaker cabinet damping, and a global Presence control that enables you to custom-tailor your overall sound.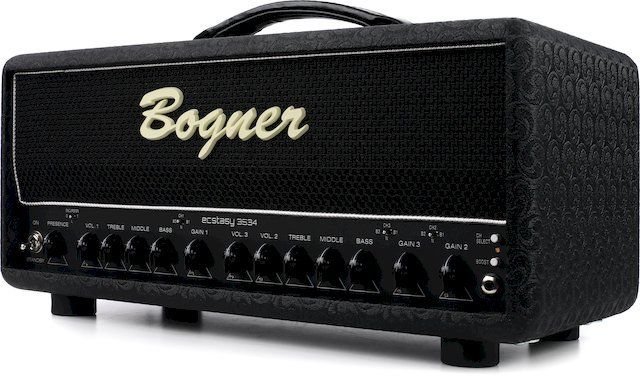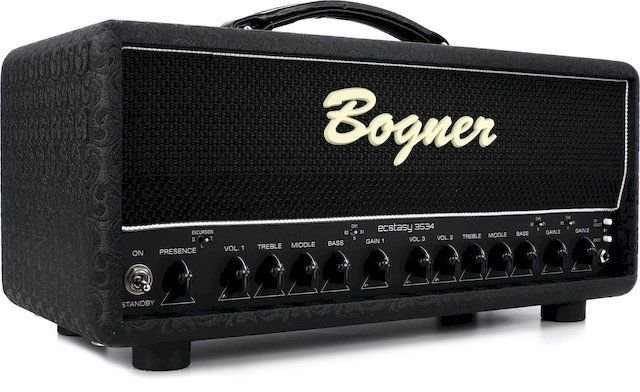 Streamlined, yet eminently powerful feature set
The Bogner Ecstasy 3534 includes the pro-level features you need. It has everything you need to make it the heart of your rig. It boasts four stages of ECC83 (12AX7)-driven preamp gain that are piped into a dual-EL34-fueled power section. The organic, British-tinged tube saturation generated by this guitar amp head infuses every note you play with ear-grabbing textures that demand attention. Integrating your pedalboard and outboard effects into the XTC 3534 is a breeze, thanks to its tube-buffered effects loop. And both onstage and in the studio, the Ecstasy 3534's line-level output makes feeding an IR-loader easy (Note: the Ecstasy 3534 isn't a load box — you must connect a speaker to avoid damaging the amp).
Reinhold Bogner — the man behind the amps
Though Reinhold Bogner began designing and building amplifiers long before leaving Germany for the U.S. in 1989, his career really took off soon after arriving in Los Angeles. He quickly gained the trust of many influential players including Steve Stevens, Dan Huff, Allan Holdsworth, Mike Landau, and Steve Vai, who sought out his skill at modifying and custom building their amps. Eddie Van Halen entrusted Reinhold to overhaul and revitalize his number one Marshall Plexi — with great results. Soon after, Bogner Amplification was born, and the rest, they say, is history.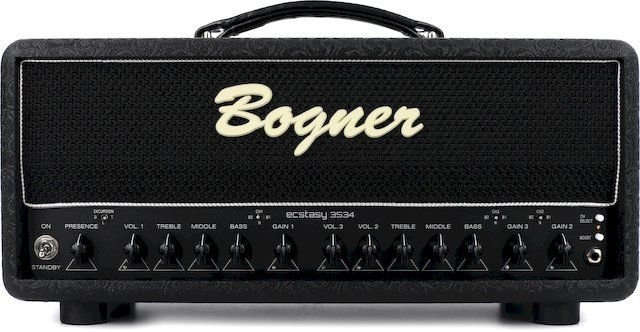 Bogner Ecstasy 3534 Amp Head Features:
35-watt, 3-channel tube amp head with classic Bogner tone
Channel 1 features independent Volume, Treble, Middle, Bass, and Gain controls
Channels 2/3 feature shared Treble, Middle, and Bass controls
Channels 2/3 feature independent Volume and Gain controls
Global Presence control enables you to custom-tailor your overall sound
3-way Excursion switch controls speaker cabinet dampening
3-way pre-EQ switch for each channel controls the openness and presence of higher-range harmonics
Boost switch adds extra drive and grind to your playing
4 footswitch-accessible sounds range from crystalline cleans to crunchy blues to raging distortion
Tube-buffered effects loop makes integrating your pedalboard a breeze
Line-level output is ideal for feeding your favorite IR-loader (Note: the XTC 3534 isn't a load box — you must connect a speaker to avoid damaging the amp)