Description
Roadhouse USA location:
Godin A12 12-String Acoustic-Electric Guitar – Natural W/Bag.
New condition. Comes as pictured with Godin gigbag.
These (like most all Godins) are an incredible value for the money. This thing spanks a Taylor T5 and costs far less.
Info:
Godin's A12 12-string acoustic-electric guitar is a great choice for players looking for a comfortable and natural-sounding 12-string for live performance. The A12's maple body is chambered and features a solid cedar top that reacts to your playing the same way a traditional acoustic instrument would. The maple neck is carved with special attention being paid to playability and comfort. And Godin's instantly recognizable pickup and preamp system graces the upper bout of the instrument, while providing the A12 with a woody and natural acoustic sound through any amplification.
Unique construction
Godin's chambered solidbody acoustic-electric instruments have been extremely popular with performing and touring musicians for years. The A12 12-string acoustic-electric guitar's thinner dimensions, resistance to feedback, player-friendly neck carves, and naturally resonating top deliver the best of acoustic and solidbody performance. And only time-proven tonewoods are used in its construction. Its book-matched cedar top caps its 2″ silver leaf maple body, which boasts two expertly designed chambers. With the A12, you'll enjoy acoustic tones with solidbody performance.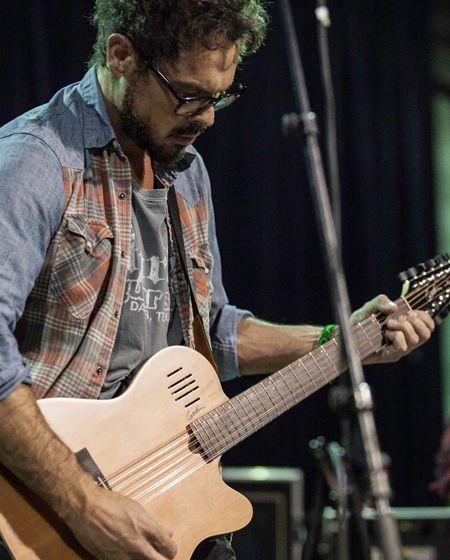 "Easiest-playing 12-string guitar on the market."
Godin takes a great deal of care in the design of their guitars' neck profiles, and the A12 12-string acoustic-electric guitar is no exception. Its neck is carved from a stable piece of maple and is crafted to feel as comfortable for predominantly electric players as it does for seasoned 12-string acoustic guitarists. In fact, Godin proudly states that the A12 is the "easiest-playing 12-string guitar on the market."
Custom Godin electronics
As soon as you lay your eyes on a Godin acoustic-electric instrument, you know it. A large part of that is their identifiable low-profile preamp system that is situated on the instrument's top. Not only does this system offer guitars like the A12 a unique look, but the custom Godin electronics sound very natural and realistic. The under-saddle transducer and easy-to-use controls utilize the guitar's natural acoustic properties to deliver the tone of a much larger acoustic instrument, while fighting trouble feedback when performing.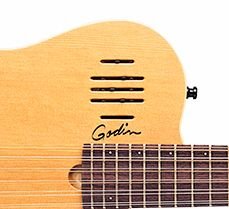 Godin A12 12-string Acoustic-electric Guitar Features:
Solidbody acoustic-electric 12-string guitar
Maple body features 2 chambers for enhanced resonance
Solid cedar top reacts exactly like a fully acoustic instrument
Hard rock maple neck is carved for ultimate comfort while performing
Custom Godin pickup and preamp system deliver a natural acoustic tone