Description
Roadhouse USA location:
Mezzabarba Skill 30 Guitar Tube Head in upgraded Purple tolex from the factory.
Amp is in superb, like new condition with the exception of a small pink mark on the top in the tolex which was likely there from the factory.
Killer tone, it comes with the original footswitch and cables.
We have had a couple of these amps over the last year or two and their reputation is well deserved. They are incredibly well constructed and the plethora of tones this thing is capable of is amazing. Truly an excellent entry in the boutique amp market.
Grab this one without the long wait and also avoid duty and taxes as these are hand made in Italy.
From Mezzabarba:
Mezzabarba is the result of expert engineers and guitarists working closely together toward one goal: realize the best tone possible for the electric guitar. What was discovered in our boutique is now easily available to all serious guitarists who are tired of accepting compromises in their sound. Used by an ever-growing number of artists worldwide for more than a decade, Mezzabarba guitar amps are custom-built, all-tube beasts which are entirely hand-made in Italy.
Used by
Joe Satriani, Steve Vai, Mark Tremonti, George Lynch, Trent Reznor (Nine Inch Nails), John Nymann (Y&T), Steve Trovato, Doug Rappoport, Adrian Smith (Iron Maiden), John Jorgenson (Elton John, The Hellecasters), Eric Steckel, Alessandro Cortini (Nine Inch Nails), Joel Hoekstra (Whitesnake), Howie Simon (Alcatrazz, J.S. Soto, Winger), Stryper, Marco Sfogli (J. LaBrie, PFM, Icefish), Giacomo Castellano, Ira Black (I Am Morbid, Dokken), Ike Willis (F. Zappa), Mrs. Smith, Jon Conley (Kenny Chesney), Robert Sarzo (Geoff Tate, Hurricane), Brett Garsed, Vinnie Moore (Alice Cooper, UFO), Skin Tyson (Robert Plant), Mitch Perry (MSG, Hollywood Jam), Red Fang, William Stravato and many more.
The Skill is a concentrate of pure Mezzabarba sound, power and transparency enclosed in a beautiful, 11kg portable amp. As always, our motto is "No compromise", and that's precisely the philosophy that inspired the Skill and its unprecedented engineering effort.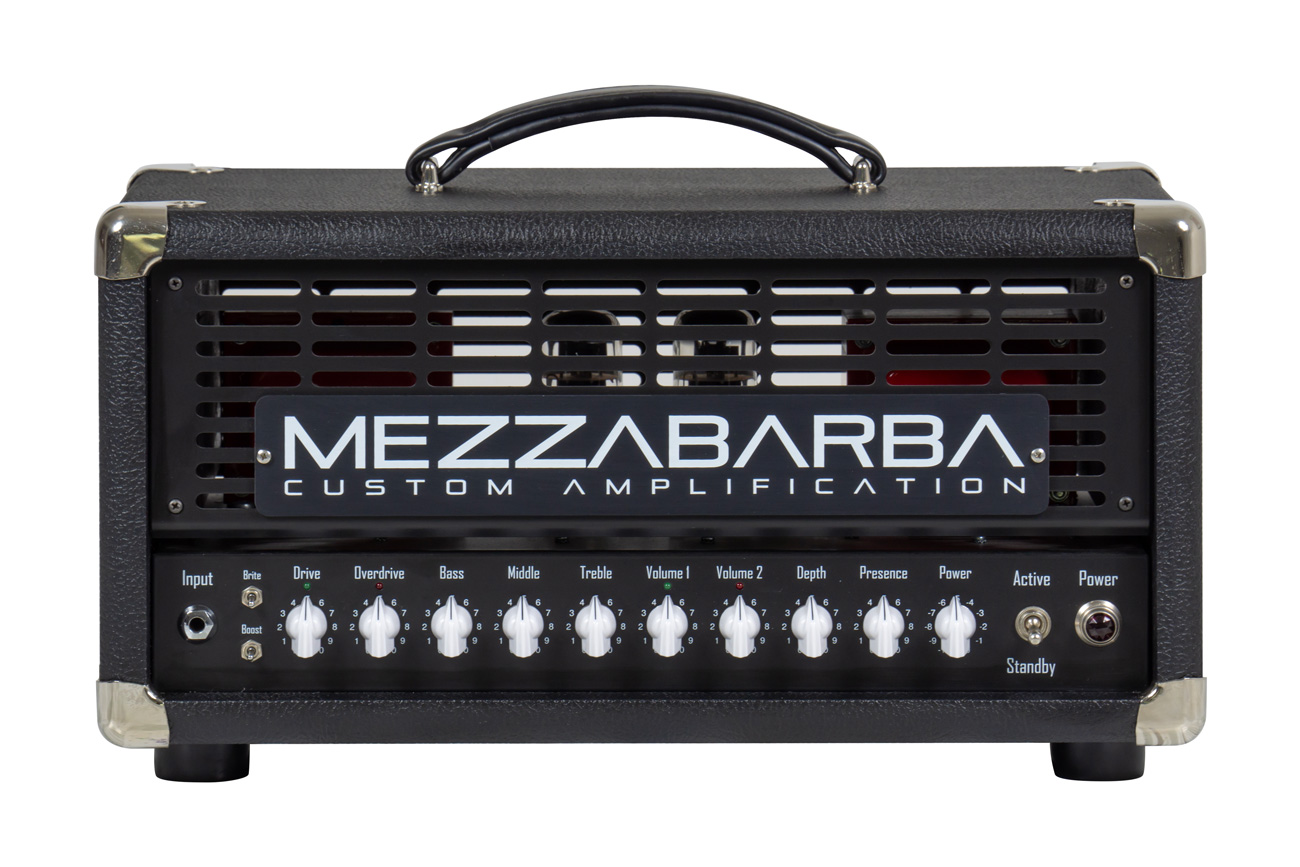 The first channel is derived from the M ZERO Standard in the view of granting it the best possible interface with pedals. A Bright and a Boost switch, together with the great equalizer, allow it to yield all of the sounds that a single channel amp can possibly deliver. The second channel is M ZERO Overdrive channel which starts as crunch and saturates exponentially with amazing sustain and harmonic richness, leaving musicians and audiences in awe.
The ingenious switching system does not alter the dynamic and fluidity of the amp, and allows to swap between channels in an unprecedented smooth fashion.
The innovative Power control allows the Skill to deliver a full-body, saturated sound even at very low volumes, which makes this amp a perfect tool to enjoy even at home. Finally, the switchable, full-tube effects loop allows for endless sound possibilities.
The Skill was born to Rock but can do anything, at any volume, in any place. Nothing will be the same anymore.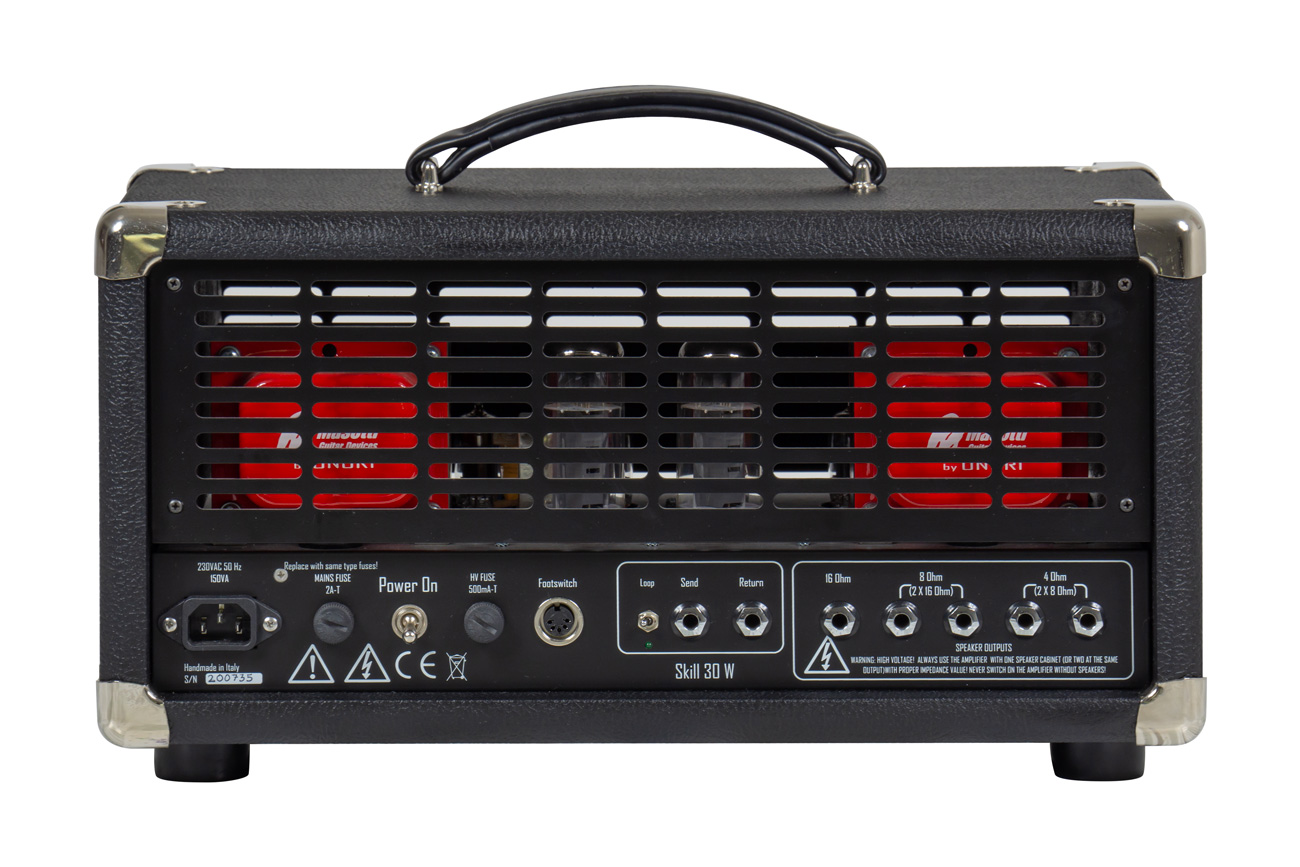 Features and technical specifications
• 100% engineered and handmade in Italy.
• 2 Channels: recallable via footswitch.
• Serial, full-tube effects loop recallable via footswitch.
• Brite switch on the Clean channel boosts mid-high frequencies for utmost transparency. Boost switch saturates channel.
• Innovative Power control "scales down" amp and allows it to perform at maximum saturation and dynamics even at very low volumes
• Just like all Mezzabarba amps, the power amp section features oversized transformers that deliver the best and most solid sound in any conditions, at any volume.
• Power amp tubes: EL34
• Presence and Depth controls for ultimate sound chiseling
Dimensions: 44,5 x 24 x 21,5 (h) cm.
Weight: 11,5 Kg.